What Hi Fi Winners 2011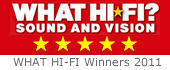 When it comes to buying a new TV reading reviews are always helpful but a list of award winning models is even better. What Hi Fi Sound & Vision is a great source of clear independent advice that guides you through a raft of products including some fantastic TVs.
Full specs, expert tips and ratings help you through a mindful of different models . At a glance summary of their final verdict and star ratings of each tested TV gives you a quick and easy route in finding the right set for you. Check out who the winners are for 2011.
Latest Smart 3D Curved TVs
Product of the Year
Panasonic TX-P42GT30
Voted as best premium 40 to 42 inch TV for 2011 and one that proved hard to match. What sets this TV apart from the rest is its brilliant image quality both in 2D and 3D pictures. Extra points are also gained by giving you a choice of two high definition tuners, one for Freesat and one for Freeview HD.
So whether your images are served up via satellite dish or aerial you are guaranteed an impressively detailed result full of punchy pictures.
It's clear from this year's winners list that Panasonic TVs consistently beat the opposition across screen sizes. The exception being Samsung who excelled with their eye-catching D6530 series. The Samsung UE40D6530 was Panasonic's closest rival but was not as strong in terms of 3D. However it did make up ground with stylish looks and spectacular Freeview HD images to match any in its class
Other WHAT Hi-Fi Winners
Best Small Screen
Panasonic TX-L24E3
Best 32 inch TV
Samsung UE32D6530
Best Budget 40 to 42 inch TV
Samsung UE40D5520
Best 46 to 47 inch TV
Panasonic TX-P46GT30
Best 50 to 52 inch TV
Panasonic TX-P50GT30
Best Big Screen TV
Panasonic TX-P55VT30
Cutting Edge TVs
2011 has been an exciting time with cutting edge systems taking us to new levels in home entertainment. Major manufactures such as Samsung, Sony, Panasonic, LG and Toshiba have had a busy year with their connected LED and Plasma televisions. We've seen premium Smart TVs with internet, streaming, HD, Catch-up TV and 3D functionality giving us so much more than just a movie machine.
2012 LG Nano LED TVs
We can look forward to next year's offering being showcased at CES 2012 in Las Vegas. The promise of Borderless designs, advanced lighting technology with Full Nano LED TVs and high end cinema plasmas are sure to be the main attraction from the LG corner. Other new arrivals are likely from Google. Google TV's software platform interacts with a connected TV providing a greater TV-Web app experience. There may even be something on the horizon from Apple with their own digital TV sets.