UE22C4010 22 inch white slim LED TV from Samsung

This new UE22C4010 from Samsung has got to be one of the best looking 22 inch TVs to hit the scenes in a long while. Its pristine white finish and slender frame is home to an array of fine features not usually found on a small screen. Best of all is it comes with the latest LED backlighting for the ultimate in picture quality all for around £200 or just over today.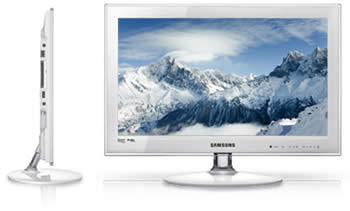 Samsung UE22C4010 White LED TV
Great looking bedroom or kitchen TV
Samsung's Crystal TV design, white wood grain colour and stylish round stand makes the UE22C4010 an impressive free standing TV for a smaller room. Even better is its slim build making it perfect for wall mounting and a compact size for a study, bedroom or kitchen TV.

Picture enhancing technology brings home stunning images with intense black levels, bright images and eye popping colour. The HD pictures are clear and detailed making viewing a pleasurable experience on this small slim line 22 inch LED TV.
Samsung UE22C4010 Key Features
Ultra Slim 22" LED TV
HD Ready
1366 x 768 Resolution
IDTV (Freeview)
Wide Colour Enhancer
Dolby Digital Plus
Down Firing Speakers
Game Mode
2 x HDMI
1 x USB, 1 x Scart
PC input, CI Slot
Anynet+ (HDMI-CEC)
Part of Samsung's series 4 the UE22C4010 is no slouch in the connectivity department either with enough connections to keep everyone happy. The 2 HDMIs, USB and a PC port allows you to enjoy content from your PC to TV, view photos and video files for total multi-media entertainment all on a wide HD Ready screen.
Also known as UE22C4010, UE-22C4010, UE/22C4010, 22C4010