Panasonic VIEARA TX-P50VT20B 50" Plasma HD 1080p 3DTV
Panasonic are set to unleash over 60 Plasma TVs for 2010 all sporting the brand's proprietary NeoPDP technology. Leading from the front are two super sized Plasma 3DTVs the 50 (TX-P50VT20B) and 65 inch (TX-P65VT20B). The new screens benefit from improvements in contrast levels that have extremely robust blacks, vivid colours and the smoothest images. The once power-hungry beasts have since lost their appetite and have been redesigned to consume less power and be more energy efficient and thus eco friendly.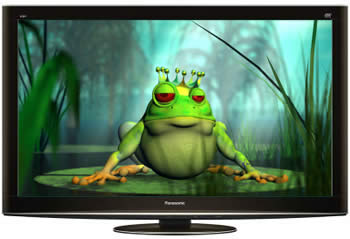 TX-P50VT20B 3D TV
with Freeview HD & Freesat HD Built-in
May Launch
TX-P50VT20B
The May launch will see reviews of the TX-P50VT20B and TX-P65VT20B coming through thick and fast but at the moment they are thin on the ground. Now the final pricing has been confirmed more retailers will be stocking up so you can compare the best UK price. John Lewis is first up to offer the 50 inch 3DTV but their stock count shows they are selling fast. Both models house all the workings to deliver a breathtaking view of 2D and 3D content at its very best.
Plasma TVs have greatly improved over the years and have stayed true to Panasonic's belief that you get a better performance on a large Plasma screen over an LCD of the same size.
Panasonic use of numerous technologies combines to deliver a new era of television in 3D, HD and online. The TX-P50VT20B Full HD 3D Plasma TV lets you enjoy next generation entertainment where you can make the most of what 2010 TVs have to offer.
This first 3D Plasma from Panasonic promises to bring you razor sharp 1080p resolution with a 600Hz sub-field refresh rate for sublime picture quality. 3D technology may be the talking point but this high end model has a lot to shout about with its use of state-of-the-art-technology.
TX-50VT20B Key Features
50″ Full HD 1080p Plasma
3D Ready
Two pairs of 3D Eyewear
Infinite Black Pro
Tuner: Integrated FreesatHD/Freeview HD Tuner
Contrast Ratio: 5,000,000:1 Dynamic Contrast Ratio
NeoPDP Technology
THX Certified Display
VIERA CAST
VIERA Link
100 Hz Double Scan 600 Hz Sub Field Drive
Cinema Mode: 24p Playback
Infinite Black Pro will be serving up the blackest blacks while 600Hz Intelligent Frame creation will be taking care of the fast moving scenes. All in all, movie buffs, sports fans and anyone who appreciates an eye popping picture will be more than happy.
3D Glasses
Two pairs of 3D glasses are included so you can experience the three dimensional effects straight out of the box. You will need to tune into HD broadcasts that's available or hook up to a 3D compatible source such as a 3D Blu-ray.
The incredible realism has to be seen to be believed. Other delights are the High definition content on offer care of built-in Freeview HD and Freesat HD tuners. The Freesat HD will need a separate satellite dish.
The TX-50VT20B is also fully armed with a healthy helping of connections and networking capabilities. There are 4 HDMI inputs, two USB ports, a 15-pin D-Sub input for computers and VIERA CAST for one touch display of internet content.