Panasonic 50" 3DTV TX-P50VT20 Reviews & Best Price
Panasonic's stunning 3D debut with its mighty 50 inch Full HD plasma screen isn't going to be cheap but we have found it almost £300 cheaper at Marshall Ward and Woolworths. Todays going price stands at £1999 which includes two pairs of 3D glasses.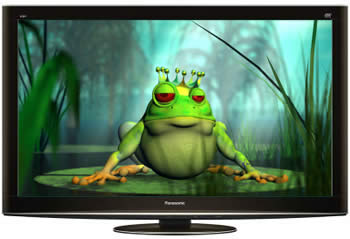 Panasonic TX-P50VT20B
Launched back in May the TX-P50VT20B 50 inch belter has proved itself a worthy winner of Best Buy awards & 5 star reviews. Both What Video & Hi-Def TV and What Plasma & LCD TV gave a thumbs up verdict of the New 3D Panasonic TX-P50VT20 in their recent issues (361& 79).
Some things are worth waiting for and Panasonic's first steps into the next generation in viewing looks set to raise the bar for all that follow. For starters you get a double whammy of HD tuners with built-in Freesat HD & Freeview HD
The integrated tuners on the VT20 series are a convenient way of watching HD content such as sport, movies and documentaries. Full HD glory is yours free with no need of a costly monthly subscription.
Panasonic TX-P50VT20B Features
Resolution 1920 x 1080
Contrast ratio 5,000,000:1
Freeview HD & Freesat HD Built-in
V Real Pro 4 engine
24p Playback
600Hz Intelligent Frame Creation Pro
VIERA image viewer (video & photo)
3D colour management
4 x HDMI plus SCART and USB sockets
V-audio Surround
Eco mode
Supplied with two pairs of 3D Active Shutter glasses
For its size it appears compact and stylish with an unusual dark bronze with silver trim to its frame. With 3D content thin on the ground at the moment it is just as well the TX-P50VT20 scores well in the two dimensional world. Everyday viewing is high class with a superb 2D plasma display as well as some eye popping 3D home entertainment thrown in too.
Being DNLA compliant makes this more than just a movie machine, you can access content on networked PCs and NAS devices as well as a connected USB device. Thanks to VIERA CAST you can enjoy internet content direct to the TV and check sports, news, weather and stock information. New additions to Panasonic's internet service include the popular SkypeTM and Twitter applications.