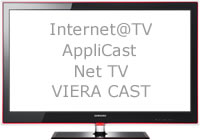 Internet Televisions
Web enabled TVs are the latest trend to hit the market and have the ability to retrieve and display web content on the TV screen.
It's early days yet and you are limited to what you can access from specific channels for news, sport, and local weather and feeds from Flickr and YouTube. These are bound to be popular with fans of latest high tech breakthroughs or anyone interested in catching up on their emails from the sofa.
It can be misleading at first and you may think you can use your TV like you would on a normal computer browser but they are not all quite there yet.
It's a great idea to be able to surf the net from the comfort of your sofa without having to switch the PC on and it won't be too long before fully fledged web enabled TVs offer the full works.
In the mean time you'll be able to access news channels and entertainment websites such as YouTube and photo-sharing sites like Picasa plus Yahoo! News, Yahoo! weather, Yahoo! Finance and Flickr.
The Internet TVs that are slowly emerging on the scene although rather limited in their web use gives an indication of how future multimedia televisions will be made. It is only a matter of time before the TV and computer become as one and manufacturers are getting ready to unveil their latest offerings.
Web Viewing Technology
You already have the big guns releasing their version of web enabled TVs. Manufacturers have their names for the Internet features and accessing web content including:
Samsung – Internet@TV system
Sony – Applicast,
Panasonic – Vieracast.
Philips – Net TV system
No doubt LG and Toshiba will have web enabled TVs available in the UK in the future.
It looks like things will be hotting up as manufacturers race for top spot in producing the best web TV experience.
Here is a taster of some:
Philips Web Enabled Internet TV
Philips have their Net TV system enabling you to connect to the web via an Ethernet cable or wirelessly to the World Wide Web. New models featuring Net TV include Philips series 8000 (connection via Ethernet cable) and 9000 plus their cinemascope TV Cinema 21:9 (both Wi-Fi enabled) due for release in early 2009.
Cinema21:9
56 in Full HD 1080p LCD 56PFL9954H
9000 series
37 in 1080p LCD 37PFL9604H
42 in LCD 42PFL9664H
8000 series
32 in LCD 32PFL8404H
42 in LCD 42PFL8404H
47 in LCD 47PFL8404H
The online web service is accessed via the remote control; it is more advanced and user friendly compared to teletext. Internet TV will appeal to many who like sharing online video content and web content with others; viewing will be better on a larger screen rather than gathered around a PC.
Manufacturers have teamed up with their various service providers: Philips is linked with YouTube, eBay, MeteoGroup (Europe's largest private weather company), Funspot (an online gaming company), MyAlbum (a photo sharing website) and NetLog (an online social networking site).
Panasonic Web enabled Internet TV
Panasonic has partnered with Google's Picasa, the free downloadable photo editing software and photo-sharing website. A dedicated button on the remote brings up a variety of on-screen widgets.
Panasonics gizmo for accessing the web is called Viera Cast and with the touch of a button you access YouTubeTM, EurosportTM and Google's Picasa Web AlbumsTM directly from your compatible VIERA TV. Models that can access the internet via Ethernet connections include:
Sony Web enabled Internet TV
Sony's web gadget is called Applicast and enables you to interact with a range of internet based applications on Bravia TVs. The picture frame widget is one of the five that you can add once connected to the internet. This allows you to download images from the Sony picture gallery or from your own photo collection to display on the full screen.
As well as giving you internet-on- TV functionality Sony boasts its 2009 LCD line-up of Bravia TVs is its "greenest ever," These include TVs from the following series: WE5, W5500, E5300, E5500 and V5500
Models with Applicast include:
W Series

32 inch KDL- 32W5500
37 inch KDL- 37W5500
40 inch KDL- 40W5500
46 inch KDL- 46W5500
52 inch KDL- 52W5500
32 inch KDL-32W5710
37 inch KDL-37W5710
40 inch KDL-40W5710
46 inch KDL-46W5710

WE Series

40 inch KDL-40WE5W
46 inch KDL-40WE5W

E Series

22 inch KDL-22E5300
22 inch KDL-22E5310
32 inch KDL-32E5520
40 inch KDL-40E5520
32 inch KDL-32E5510
32 inch KDL-32E5500
40 inch KDL-40E5500

V Series

32 inch KDL-32V5500
37 inch KDL-37V5500
40 inch KDL-40V5500
46 inch KDL-46V5500
52 inch KDL-52V5500
Samsung Web enabled Internet TV
The Samsung Internet@TV Content Service is available on the latest 8000 and 7000 series TVs, which offer both wired and wireless Ethernet connection options. Samsung has teamed up with Yahoo! to bring a selection of widget-based internet options to the TV and you will also be able to build a collection of new widgets offered by any of the content providers.
Current widgets, which will sit in a scrollbar along the bottom of the TV's screen, include access to on-screen content from Yahoo!, Flickr and YouTube. This is a free service but further widgets are offered at a fee. You can access the content using the simple user interface and enjoy a selection of videos, photos, information, shopping etc.
Internet@TV Content Service is available on a range of Samsung LCD and Plasma TVs including:
Samsung Series 7
Samsung Series 8