TVs with a built-in DVD player are more popular than ever now and a great choice when looking to save space in a small bedroom or kitchen area. We found a good selection of  DVD / Combi TVs with prices ranging from £120 to £300 and screen sizes between 16 and 26 inch.

---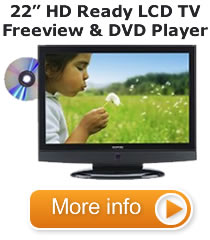 One of the most popular places for a TV DVD combi is the bedroom where more often than not space is at a premium. This clever idea of an all in one TV takes care of the space problem by having a TV with a built-in DVD player. There is no need to have extra shelving or TV units cluttering a room just to house a DVD player.
If possible go for a combi TV that also includes Freeview allowing you to enjoy all the free TV channels and watch DVDs from one device. The Sovos SVTV22D – 22″ Widescreen HD Ready LCD / DVD TV that has an integrated up scaling DVD player and inbuilt digital Freeview tuner allowing you to watch over 40 TV channels for free.
A TV with built in DVD player is ideal for a child's room where they can enjoy watching their own favourite films. Christmas is a popular time for DVD releases and 19 inch LCD combi TV makes a smashing Christmas treat for kids to play and watch thier favourite tv and film characters.
Nowadays, there are many slim line televisions to choose from that would be suitable for the bedroom, kitchen and dining room that also have a built-in DVD player. You will find all the big names producing slimline TVs with integrated DVD with the ability to view digital photos and to play MP3.
---
There are also lesser known names with their own collection at more affordable prices such as Sovos, Cello and Matsui. Of course the less expensive budget combi TVs are ideal for a child's room.
Anyone looking for a good value for money television will be familiar with the name Cello and their line up of affordable LCD TVs. Cello are a UK based manufacturer renowned for their cost effective quality TVs.
Cello was the first company in the UK in 2007 to sell LCD TVs with integrated DVD players in 15 inch and 19 inch models. A year later they introduced 22, 26 and 32 inch models to their collection of combi TVs.
Cello has produced Combi TVs in a range of 15 inch to 22 inch models.
Today sees popular retailers joining forces with Cello Electronics to create their own brand of exclusive high quality LCD TVs. Thanks to Cello and retailer's brands such as Soundwave, Murphy, Neon, televisions with integrated DVD player, built-in iPod docking station and Freeview are available with affordable price tags.
HD Ready LCD/DVD Combi at Littlewoods>>
Key features of Murphy C1573 99 (no longer available)
Pink TV
Built-in DVD player
15 inch screen
Freeview
Resolution: 1280×800
Contrast 300:1
10 page Teletext
Wall mountable
Full power off with remote
HDMI and Scart socket
Budget TV from Matsui with an integrated DVD player and Freeview. A suitable size TV for a kitchen or bedroom. Kids will love this pink television to play their favourite DVDs plus the small size screen means it's easily wall mountable.
Toshiba has a new line up of combi TVs their DV61 series is new for 2009 and includes screen sizes 19, 22 and 26 inch. These new glossy black TVs are slim and are HD ready with HDMI connections and a PC input. Also available in white.
Toshiba 22DV615DB HD Ready LCD TV 22″ with DVD Player
Integrated DVD player
Slimline Design
DVD Video and DVD-R (RW) compatibility
DVD player supports DivX, MP3 and JPEG playback
HD Ready
1366 X 768: Resolution
Integrated Digital Tuner
1 X HDMI Connection (19″ and 22″ models)
PC input
LG TV/DVD Combis

All in one TVs that include DVD player and freeview does away with messy cables and multiple units. LG has released some new models for 2009 that have stylish slim designs and plenty of connectivity.
The LG4000 series is quite impressive, key features include 3 HDMIs, freeview, HD ready, SRS Trusurround XT , Simplink and Game Mode. Available in 26 and 32 inch screen sizes. The LG 26LG4000 26 inch HD Ready combi LCD TV is available at a number of retailers Compare Price
---
John Lewis10 inch TV/DVD for boats and caravans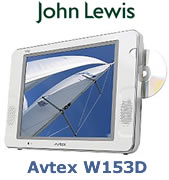 The family favourite store John Lewis stocks The Avtex W102D this super 10 inch combi TV not only has an integrated DVD and CD player it has a built-in freeview tuner too.
The unit can be powered by a 12v cigarette lighter making an ideal purchase for a mobile home. The compact 10 inch screen is also perfect for any room in the house where space is a premium.