Older models no Longer available
Toshiba LCD Televisions
Toshiba have been at the forefront of high tech electronics arena for many years and are a familiar brand throughout the UK.
Today, Toshiba is a world leader in high technology, manufacturer and marketer of advanced electronic and electrical products including communications equipment and systems, Internet-based solutions and services plus industrial and household appliances.
Toshiba's line up of new models for 2009 takes the REGZA series to the next level. The range has proved to be a premium quality range with unique features and superior picture performance; the launch of the latest REGZA series extends this even further.
Toshiba are releasing a new collection of HDTVs to their already impressive Regza series for 2009. For the best HD Ready LCD TVs offering the ultimate in home entertainment with a variety of stylish designs, screen sizes and innovative features Toshiba's New REGZA series continue to provide high quality televisions.
---
More Recent Toshiba TVs
---
The Toshiba Corporation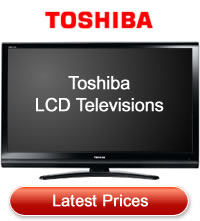 Toshiba was founded in 1939 when two well established manufacturing companies merged. One, Japan's first manufacturer of telegraph equipment was founded by Hisashige Tanaka; Tanaka Seizosho (Tanaka Engineering Works) that later changed its name to Shibaura Seisakusho ((Shibaura Engineering Works) in 1904.
The second company Hakunetsusha, founded in 1890 established itself in being Japan's first producer of incandescent electric lamps and later diversified into the manufacture of other consumer products. The name changed in 1899 to Tokyo Denki (Tokyo Electric).
The joining of these two major Japanese's manufacturers in 1939 created a new company called Toshiba Shibauru soon known as "Toshiba". It was in 1978 that it was officially renamed Toshiba Corporation.
There have been many firsts for this fast expanding company including:
1942 Completed Japan's first radars
1952 Japan's first TV broadcast transmitters and TV microwave relay system.
1959 Japan's first transistorized televisions
1970 Developed the world's first colour video phone.
1972 Released the world's first colour TV with black stripe-type cathode-ray tubes
1978 Japanese word processor
1985 Developed Japan's first transceiver device for HDTV systems
Introduced world's first laptop personal computers
1995 Developed high-density optical disc, DVD.
1996 Introduced the mini-notebook personal computer, Libretto
Introduced DVD video players and DVD-ROM drives
1998 Manufactured flat TV, FACE
2006 Announced the world's first HD DVD players and recorders, and AV notebook PC -with HD DVD drive
You can find more information about Toshiba LCD TVs as well as product specifications and the latest technology by visiting their website here: www.toshiba.co.uk