Lucky ones with room to fit a super size 55 inch in their living room will be in for a treat.
The new Toshiba REGZA SV series that hit the stores last September with its hefty price tag has now been greatly reduced at some stores. The cheapest price we found today for the 55SV685DB was around £ 2049 at Beyond Television. This is a saving of a whopping £1650!
Toshiba 55 inch LED  200Hz TV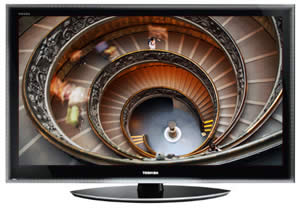 Toshiba 55 inch 55SV685DB LED TV
As expected it was only a matter of time before Toshiba jumped on the LED band wagon along with LG, Sharp, Sony and Samsung. The 55SV685DB is also available at Amazon.co.uk and 1stAudioVisual. The feature packed SV series comes in two screen sizes the 46 inch 46SV685DB and the 55 inch 55SV685DB.

So far reviews are doing them proud especially as they can be picked up at a more affordable price. The combination of 200Hz technology and LED Local Dimming Backlighting makes day to day viewing a pleasure. Expect brighter highlights and deeper blacks with maximum contrast value of 2 000,000:1.
Sports and movie fans will also appreciate the smooth handling of fast action scenes thanks to the Active Vision M200HD processing technology.
Toshiba 55SV685DB Key Features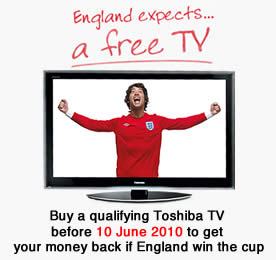 Full HD 1920 x 1080p
Active Vision M200HD processing technology
MetaBrain Engine
LED Backlight
ECO Panel
Resolution+
DLNA- Digital Living Network Alliance
4 HDMI
SD Card
USB PRO (JPEG, MP3, DivX)
PC Input
Game Mode
Dolby Volume
Dolby Digital Plus
Deep Lagoon Design
The Deep Lagoon bezel design of the SV series sports a glossy black frame that gradually fades giving a tapering effect. Apart from the stylish looks Toshiba describe their latest models as being more eco friendly with better picture quality, excellent colours and greater connectivity. Not forgetting of course the massive LED-lit screen that will take pride of place in your home.
Get Your Money Back if England Win the World Cup!
Toshiba Television
In addition to the lower price there is a great TV offer on at the moment. The SV series is included along with other selected models. SEE Free Toshiba TV
Free Toshiba TV Video
Buy the 46SV685db or 55SV685db on or before the 10th June and if England wins the World Cup you get your money back.