46SV685DB 46" Full HD LED TV Save £1600 Today + Free TV OFFER
Whether you want to watch HD or stream content from the internet this big beautiful LED TV from Toshiba is sure to capture your attention. On top of its impressive spec we found Beyond Television has reduced their price by a whopping £1600 giving it a much more affordable price tag of £1399.99 for a 46 inch LED TV.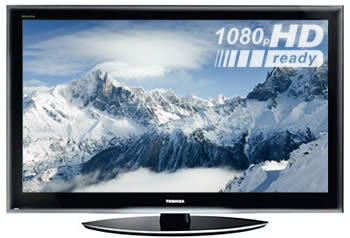 Toshiba 42SV685DB 46 inch LED TV
If you are on the look out for a big 46 inch flatscreen it's worth considering buying a Toshiba especially when you can have the chance of getting it for free. Buy the 46SV685DB before 10 June 2010 and if England win the World Cup you get your money back – everyone will be a winner!
The new REGAZA SV series is definitely one to watch all the World Cup football action on. This feature packed set is usually priced around the £2500 mark and when you turn it on you will soon see why.
The 46SV685DB has a combination of HD ready 1080p picture processing, stunning deep lagoon styling and LED Local Dimming Backlighting are just for starters. There's also the super size screen that Toshiba promises to deliver the clearest smoothest picture to date.
46SV685DB Connectivity
It has a comprehensive line up of connections with 4 HDMIs, Ethernet, USB and SD card inputs that'll tick all the boxes in the multi-media section.
Toshiba 46SV685DB Key Features
46 inch LCD TV
Full HD 1080p
Deep Lagoon Design
LED Backlighting
Active Vision M200HD Processing
Resolution+
4 x HDMI inputs
PC Networking
USB, SD Slots
Nicam Sound system
Toshiba Metabrain
TV Manufacturers have their own description for the image processing technologies and MetaBrain is Toshiba's aptly named power house. Thanks to its combination of features such as Active Vision M200HD picture processing you will experience Toshiba's clearest, smoothest picture. Resolution + upscaling work together to give the best possible standard definition picture to near high-def quality.
Ease of use
Easy set up is another promising aspect with simple to navigate on screen menus making basic adjustments a doddle. Reviews looked very favorably on the 46 incher and What Plasma & LCD TV loved the rich natural colours, detail and excellent contrast. In their group test issue 78 it proved a strong contender in the line up of Best World Cup TVs.