Toshiba 22DV713B 22″ DVD Combi LCD TV with Freeview
This is just the right size TV for a small lounge or bedroom. TV combis with a 22 inch screen, freeview functions, PC input, USB connectivity as well as an integrated DVD player make a one-stop home entertainment hub. Today you'll find Amazon's deals of the week include this attractive LCD TV/DVD combi for under £200. You may also like the white toshiba 22DV714B DVD Combi TV.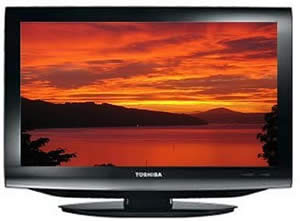 Toshiba 22 inch 22DV713DB DVD/Combi TV
This limited offer is for one week only then the price for the 22DV713DB will be around £230 on par with other online stores. Delivery is free in the UK. The compact combi LCD from Toshiba is a well featured performer and will take some beating at the price.

If you are looking to spend just a couple of hundred pounds then the latest 22DV713DB inch is a good option. It makes a great second room TV, kitchen or kids bedroom TV especially as the panel can double up as a PC monitor.
you may also like…
The television is HD ready so once you're hooked up to a hi-def receiver you can enjoy clearer and vibrant pin sharp images. Connections to HD sources such as Blu-ray players, HD games consoles are via the HDMI input. Other ports of note are the USB connection providing an easy way to playback MP3s or display digital photos and a PC input.
Toshiba 22DV713DB Key Features
HD Ready
Resolution 1366 x 768
Active Vision Picture Processing
USB Connections (DivX movie downloads, MP3 and JPEG playback)
Freeview
Nicam Stereo
HDMI connection
PC input
REGZA-LINK
CI+ Card Slot
High Gloss Black
Best of all is the convenient space saving feature of having a built-in slot-loading DVD player. The integrated digital tuner is another plus feature that gives you access to standard Freeview channels and radio stations.
Part of the new Toshiba DV series released for 2010 include:
High Gloss Black Finish Models:
19 inch DVD Combi 19DV713DB
22 inch DVD Combi 22DV713DB
26 inch DVD Combi 26DV713DB
32 inch DVD Combi 32DV713DB
Stylish White Gloss Models:
19 inch 22 inch & 26 inch sizes only