Sony LCD TVs
The 3D TV future looks bright with new 3D TV from Sony this year.
An array of awards has fallen at the feet of Sony over the years for its remarkable collection of LCD Televisions, All in One Home Cinema Systems, DVD recorders and PVRs. The future looks set to be interesting with the introduction of the latest OLED technology, ultra slim TVs and the new HD wireless technology.
The Sony Corporation was established over fifty years ago when in 1946 two forward thinking men formed TTK( Tokyo Telecommunications Engineering Company).
Sony started out repairing radios to make a living but were always looking to develop future designs and find ways to manufacture new electronics and communications equipment.
---
---
Sony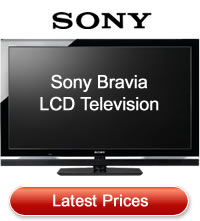 Their innovative ideas and foresight into the need to introduce a global brand soon paid off. They realised by doing this they could cross language and cultural barriers plus expand their business in the US and Europe. Not only were they playing a vital part in Japan's reconstruction they were bringing radio communications and new technologies into homes
The post war years were difficult times and the economy had suffered badly but Masaru Ibuka and Akio Morita thrived due to their determination and high aspirations to succeed. With the help of about 20 dedicated engineers this newly formed company with its cooperative spirit and motivation began its successful journey.
TTK was already being used by another company so a new name, Sony, was conceived and the first Sony branded product the TR-55 transistor radio was produced in 1955. Sony's history in the UK began in 1968 when Sony United Kingdom was founded.
In 2005 Sony launched the first model in the BRAVIA series of widescreen LCD TVs. X-series models feature "Live Color Creation," utilizing a special backlight system to achieve an incredibly wide colour gamut for deeper colours and full HD resolution panels for crisp, detailed images. The Sony SXRD technology soon followed producing a true cinematic experience.
Sony's award winning excellence doesn't just stop at LCD technology. They also excel at producing great DVD recorders like the Sony RDR-HXD890 which produces stunning Television and DVD picture and noise free recordings.
You can learn more about Sony's award winning LCD TVs and find links to Sony product support, FAQs, instruction manuals, drivers and downloads by visiting their website here: www.sony.co.uk