Sony KDL52HX903 52 inch 3DTV
June 2010 looks likely to be the launch date of an exciting range from Sony. At the moment it's too early for reviews and price comparisons of the HX903 but we haven't got long to go.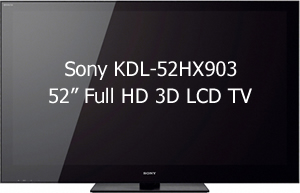 Sony 3D Television
While we wait let's step into the exciting world that this 3D television offers. The brand new Bravia TV comes with LED backlighting, 200 Hz frame rate and is Wi-Fi enabled. Its full 3D capabilities and immersive images will enrapture you and have you coming back for more.
With 3D content at its fledging stage the promise of greater things and more 3D films, games and TV programmes is sure to speed up. Looking at the giant size 52 inch panel is pretty impressive in itself with a super spec to match. It uses Intelligent Presence Sensor which employs clever face recognition technology. This clever idea from Sony sees the TV dim or turn off depending if anyone is watching.
Sony describes their latest offering as having a "Minimalistic Monolithic Design". The uniqueness and latest style of the flush flatscreen makes a stunning focal point on or off. Once it is on the room will come alive to bring a true cinema experience like never before.
You can just sense this 3D ready TV is waiting to be fed some Full High Definition 3D to really show off. Go with it and upgrade your KDL52HX903 with Active Shutter glasses and a 3D transmitter to be taken to another dimension in TV viewing.
KDL-52HX903 Key Features
52 inch Full HD 1080, 3D LCD TV
Integrated tuner for easy access to Freeview HD
Motionflow 400 PRO with Image Blur Reduction
Full LED Backlighting
Giga Contrast delivers an ultra-clear cinematic picture
Wi-Fi Ready
Built in 3D technology
BRAVIA ENGINE