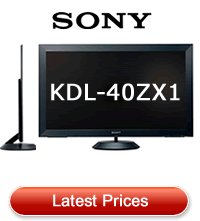 So far the technological highlights of 2009 has to be the HD wireless TVs emerging like the Bravia EX1 and ZX1 series from the Sony camp. Built-in wireless HD streaming does away with all those wires and makes wall mounting much easier.
Super slim or ultra thin is one of the main features bandied about in the sale of LCD TVs but when it comes to the ZX1 series you really are talking ultra thin at just 9.9mm thick.
So if you like the idea of owning the worlds thinnest 40 inch LCD TV (as at October 2008) take a look at the KDL-40ZX1.
Sony is grabbing the headlines with this impressive LCD that brings TV pictures alive from its amazingly slim design. The KDL-40ZX1 40 inch Full HD LCD measures a mere 9.9mm thick and sports the latest LED light technology, wireless connectivity and produces astonishing life-like images.
Edge LED Technology
The ZX1's LED backlight works by placing the LEDs at the side of the screen, rather than behind the panel as has been traditional making it possible to produce such a thin screen. This design was a first in the UK at the time of its debut in February 2009 and looks a high tech trend setter for future TVs.
Another first is its HD wireless connectivity, enabling its external multimedia receiver to wirelessly transmit HD signals to the TV. This saves you even more room with the wires hidden out of sight and gives you more scope in positioning your television.
There are 3 HDMI connections on the media receiver, a front mounted USB input and a D-Sub PC socket. There is also a single HDMI directly on the TV screen.
You can expect enhanced picture quality and faster smoother action scenes with 1080i HD wireless technology. A flat screen TV that really is flat and weighing 12.2kg the new Bravia ZX1 series will be a delight to watch whether it's wall mounted, on a stand or table top.
Vibrant colours exude from the screen allowing you to enjoy exceptional clear razor sharp images in High Definition. Motionflow 100Hz and image blur reduction technology produces smooth flicker free action scenes most noticeable in gaming and movies.
The Sony KDL-40ZX1 also incorporates Sony's Bravia Engine 2 for improved picture performance, clarity, detail and depth of colour. What's more is Sony's unique Edge LED technology gives an ultra enhanced light intensity and greater colour range that can be seen from all angles.
There is an easy to use graphical user interface that shows you what devices are connected to your Bravia. The XrossMediaBarTM (XMB) displays your connections such as photos, analogue TV, Digital TV and input devices along a horizontal bar on the screen. All you need to use is the remote control to select an icon then a vertical bar will appear with a selection of channels or discs to choose from.
Key Features of the Sony KDL-40ZX1
Picture/Sound
Display Resolution (Pixels) 1920 x 1080 (6.2 Mega Pixels)
Display Technology-LCD
10 Bit Panel
Screen Aspect Ratio-16:9
Screen Size (cm):102
Screen Size (inch): 40
Dynamic Contrast Ratio – 20000:1
Backlight-Edge LED
BRAVIA ENGINE 2
Advanced Contrast Enhancer (ACE)
Light Sensor
Live Colour Creation
x.v.Colour (Monitor input only)
Picture Mode-Vivid/Standard/Cinema/Custom/Photo
Theatre Mode
CineMotion/Film Mode/Cinema Drive
24p True Cinema (Monitor input only)
Motionflow 100Hz
Image Blur Reduction
PhotoTV HD (Monitor input only)
USB Photo Viewer
Picture Frame Mode
Power Saving + Picture Off
Power Saving Mode-High/Low/Off
14:9 Mode
4:3 Mode
Smart Mode
Wide Mode
Zoom Mode
AFD (Auto Format Detect)
Auto Noise Reduction
S-Force Front Surround technology
Nicam Sound System
Digital Comb Filter
Connectors
Digital Audio Output (optical)           YES
HDMITM Inputs 4 (3 on Media Receiver, 1 on Monitor)
HDMITM PC Signal Capability
PC Input (15pin D-Sub) + Audio In
Component Inputs x 1
4 Pin (Y/C) In (S Video)
USB 2.0 Input (On Media Receiver)
MiniJack (Head/Earphone) (mm)        3.5 (On Media Receiver)
PCMCIA Card Slot (On Media Receiver)
RCA AV Input x 2
RF In   YES
Scart Inputs (RGB) x 1           1
BRAVIA Sync
BRAVIA 1080 Wireless
Bravia TVs- 3 year guarantee
Buying a new Sony Bravia LCD TV in 2009 also means a FREE 3 year guarantee comes with it. This only applies to new models sized 26 inch and above like the new Sony KDL-40ZX1
A current list of Sony LCD TVs with the 3 year guarantee can be found here: FREE 3 year guarantee