Sony 3D TVs 2010
The last decade has seen a massive leap in TV technology: we have seen flat screen replace CRTs, the arrival of super slim LED screens and wireless internet TVs plus TVs with Freeview HD bringing high def content in your home without the need of a satellite dish.
Get ready for the next big event in the wonderful world of television. Its all change again as the 3D invasion hits our shores. The news that the FIFA World Cup 2010 is to be filmed in 3D and dedicated 3D channels will be here by autumn has increased the interest in 3DTVs for the home.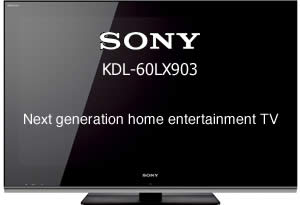 The rush to buy the latest technology has come sooner than expected but the big guys in the AV market are ready. Expect the first onslaught from the likes of LG, Samsung, Philips and the Japanese giant Sony.
Best of all, the run up to such a global sporting event has the top electronics companies showing off their wares so you can buy a 3D enabled television in time for kick off in June.
As sponsors of the World Cup; Sony is determined to lead the way. Such a popular tournament is the perfect platform to showcase their new cutting edge 3D technology. There has never been a better time to get a 3D ready TV with products offering compelling viewing, dazzling content and an amazing Full HD 3D experience.
Sony has unveiled their range of BRAVIA TVs for 2010 complete with 3D compatibility and Wi-Fi to Freeview HD and a new minimalist Monolithic Design.
Look out for the LX903 Full HD 3D range that offers: mega contrast and deep blacks thanks to the LED edge lit backlighting. Also the Motionflow 200 Hz frame rate accelerator for smooth blur free images and a new eco feature; the clever Presence Sensor. This is a cost saving feature that detects faces and motion within the room and turns off after a given time.
Two screen sizes are available the popular 40 inch and a mighty 60 incher. Both are fully compatible with forthcoming new 3D channels from Sky and Blu-ray discs. Models are:
Sony 40" KDL-40LX903
Sony 60" KDL-60LX903
In addition to Bravia Engine 3 advanced picture processing there are plenty of other high end features. The LX903 range is Wi-Fi integrated for easy access to online services & content, has a built-in tuner for access to Freeview HD, 24p True Cinema, Theatre Mode and USB Photo viewer, Music Player and Video player. Being DLNA compliant allows you to stream movies, films and photos from PCs and other storage devices.
The LX903 also comes with specially designed shutter glasses unlike the new HX903 TVs. A step down but none the less impressive the HX series includes 3D Ready TVs that can be easily upgraded with 3D Active Shutter glasses and 3D transmitter accessories.
Sony 3D LED TV (KDL-46HX903 / KDL-46HX903)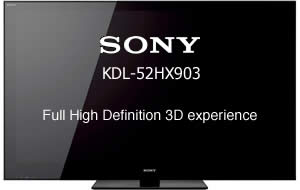 The HX903 is Wi-Fi Ready meaning you can just add a wireless adapter or USB dongle to connect to your home network and get rid of the clutter of cables. Other features include Motionflow 400 PRO with Image Blur Reduction, full direct LED backlighting and a built-in tuner for easy access to Freeview HD.
The BRAVIA HX903 3D Capable TVs are available in two sizes:
So whether you choose a 3D TV with or without active shutter glasses you know you're going to be geared up for the next gen TV experience. Just keep your diary clear from June 11th until July 11TH for the smoothest action ever.
By the end of the year footy fans can watch it all over again in amazing 3D at home when Sony Pictures Entertainment release the official 3D film of the 2010 FIFA World Cup South Africa.