Sharp Televisions
A stunning range of HD Ready and Full HD Ready 1080p LCD TVs to fit in nicely with any home décor will be on offer from Sharp this year.
The 100Hz and slimline models are the next generation in LCD televisions with super sized screens that are light enough to be wall mounted and enjoyed at any viewing angle in the room.
About Sharp Electronics
Tokuji Hayakawa, the founder of Sharp Corporation started out in business at the young age of 19. He set up his own metalworking shop and showed exceptional metalworking skills along with remarkable inventiveness.
The Japanese electronics manufacturer was established in 1912 and took its name from one of its first inventions-the mechanical pencil; this "Ever-Sharp" pencil was invented by Tokuji Hayakawa in 1915.
---
More Recent Sharp TVs
---
Sharp TVs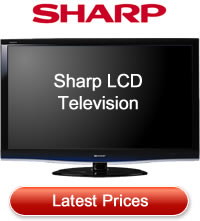 Another one of his early achievements was the invention of the "Tokubijo" snap buckle. At this time in Japan the traditional dress was the kimono and the trend setting buckle was to become highly sought after item. This successful venture along with many more was the beginning of the proud history of Sharp.
The Sharp Corporation is one of the world's largest manufacturers of consumer electronics products, information equipment and electronic components. Its research into television technology dates back to 1931 at a time when radio sets were taking off in Japan and began its production of television sets around 1953.
Sharp produced the first LCD electronic calculator in 1973 leading on to an array of state of the art products using the latest LCD technology being produced. Today, the determination and commitment continues to produce products that are innovative, unique and most of all beneficial to society.
You can find more information about the latest Sharp TVs as well as product specifications and the latest technology by visiting their website here: www.sharp.co.uk