Watch out for the latest Sharp Quattron LED TV Cashback Offer – Save up to £200
Save up to £200 with the latest TV cash back offer from sharp. Two super size LED TVs are included with this latest promotion with screen sizes 40 and 46 inch.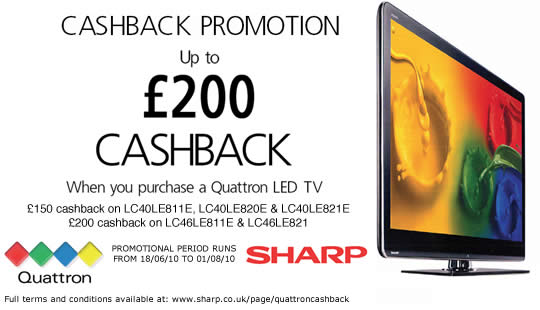 Sharp QUATTRON LED TV
Say hello to mellow yellow as Sharp proudly introduce its Quatrron technology and its extra ingredient. The 2010 Aquos LED LCD TV range features a fourth colour sub pixel into the mix of traditional red, blue and green.
SHARP AQUOS LC40LE811E 40″ Full HD LED TV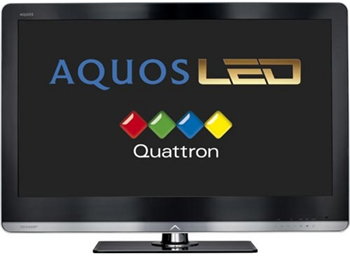 Click here for more info at Dixons.co.uk
Sharp believe this will enable the panels to display a better quality picture with billions of colours. Benefits will be seen with brighter video gaming, clearer sports and sharper action images.
This new technology creates an array of new colour tones producing more realistic pictures that can be enjoyed on these New Aquos LED TVs from sharp:
Purchase the following 40 inch models to receive £150 cashback:
LC40LE811E, LC40LE821E & LC40LE820
Purchase the following 46 inch models to receive £200 cashback:
LC46LE811E, LC46LE821E & LC46LE820

Sharp LE811E Series
40 & 46 inch screen sizes
Edge lit backlighting
Full HD
Freeview HD
4 HDMI
Quattron 4 Colour pixel technology
40% Less Energy
Smart AV mode
Crystal-clear Technology
E-motion (De-juddering)
Full 10-bit Signal Processing
Freeze Function
Sharp LE820E Series
Sharp.co.uk exclusive
40 & 46 inch
LED Backlight
Super Slimline
E-motion (De-juddering)
4 Colour Pixel
HD Ready 1080P LCD TV
Stunning flush glass front
Perfect for Sky HD, BT HD or Virgin HD
Freeview Tuner
Time-Shift (pause/record)
40% Less Energy
Sharp LE821E Series
40" & 46" Screen available
Stunning flush glass front
HD 1080p (1920×1080)
Freeview HD Tuner
4 Colour pixel technology
Edge LED Backlight
Time-Shift (pause/record)
40% Less Energy
Elegant design
Super Slimline
The LE811E & LE821E series share a similar spec with the company's UltraBriliant edge-lit LED technology, Freeview HD, 100Hz processors, 4 HDMI sockets and super slimline design. The main difference between these two series is the LE811E doesn't allow you to pause live TV and lacks the DLNA connectivity.
The Sharp exclusive series the LE820E has Time-Shift (pause/record) and doesn't have a Freeview HD tuner.
Sharp Cashback Promotional Period
18th June 2010 to 1st August 2010. Claims should be received no later than 31st August2010. View TV Offer at: www.sharpdirect.co.uk/page/quattroncashback