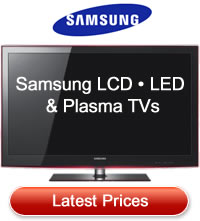 Samsung Series 7 UE55B7020
Samsung's new thinner TVs are just 29.9mm slim and include the latest LED technology and 100Hz Motion Plus picture processing. The release of LED TV Series 6 and 7 will introduce you to a host of new features and services to expand your TV viewing even further.
Sit back and enjoy web content, wireless connectivity and watching your own photos and videos on the big screen. Series 7 screens include a 40, 46 and 55 inch version in either a rose or platinum black seamless moulded design.
The Samsung 55 inch TV HD ready 1080p digital 100Hz LED TV looks set to take television entertainment to new heights. The new eco friendly TVs for 2009 have an elegant design with superior picture quality and advanced connectivity for maximum enjoyment.
Picture enhancing features include Wide Colour Enhancer pro with LED gamut and LED lighting. There is noticeably improved contrast over previous LCD TVs with crystal clear images with deep blacks.
Samsung's use of the latest LED lighting combined with advanced 100Hz processing delivers the Best LED TV viewing for you to enjoy today. Image blur is reduced leaving fast moving action scenes and sport broadcasts smooth and clear. The 1080p Full HD Engine guarantees that when connected to a compatible Blu-ray player you see films just as the director intended.
Models include:
Platinum black
Rose black
The UE55B7020W is fitted with an ultra clear panel that performs perfectly in any lighting condition. Light reflection is eliminated allowing the picture to remain pure and more comfortable for your eyes. Audio is produced by SRS Trusurround HD & Dolby Digital Plus creating an atmospheric surround sound experience.
Key Features of Samsung UE55B7020
55 inch screen
24p technology
1920 x 1080 resolution
Game Mode
HDMI x 4
Ultra slim 29.9mm
LED lighting
Eco-friendly TV
100Hz Motion Plus
Mega Dynamic Contrast
Wide Colour Enhancer
SRS Trusurround
DLNA Wireless
Internet@TV
USB2.0 (Movie)
Content Library (Flash)
EPG: 7 Day
Picture-in-picture: 1 tuner PIP
Colour: Platinum Black
Samsung's 7020 series not only boasts the clearest, thinnest eco friendly LED TVs but also offers Medi@2.0 technology which combines four media technologies to enhance your television enjoyment.
Internet@TV: is a new internet content services that allows you to watch web content on the TV without having to switch on your computer. For example Stock information, news, sports and weather.
USB 2.0 Movie: A USB connection allows you to share your digital photos, files and music.
Content Library: A pre loaded gallery allows you to select a library of content to watch on your TV. For example cookery, games, fitness plus additional content can be downloaded from Samsung.com.
DNLA (Wireless): This enables you to access your photos, music and movies from your computer without the need for cables.
This stunning 7020 series comes in platinum black and features Samsung's unique Crystal Design. At a mere 29.9mm in depth this light ultra thin TV looks amazing wall mounted even before you switch it on.
The Next Generation LED TV from Samsung is also fully equipped for connecting all your HD devices and boasts 4 HDMI inputs. Another nice touch with series 7 is the new design of the remote control, Samsung describe it as a sea smooth pebble and an exquisite piece of electronic art.
In addition, these Eco Label awarded televisions are environmentally friendly. They have recyclable bezel frames and use mercury-free LED lights that require less energy plus they are made from eco-friendly materials and require less resource for packaging and transport which together offers a significant benefit to the environment.
If you like the idea if an ultra thin LED TV but don't need the networking capabilities then the cheaper series 6 is as equally impressive. There are two sizes at the moment a 40 and 46 inch: UE40B6000 and UE46B6000.
Note: Similar model numbers may also be used depending on sales channel or stockist for example UE55B7020WWXXC (digital empire online), UE55B7020WW (Bennetts, Tribal UK, 24 Electric), UE55B7020W (John Lewis)