Samsung UE55B7000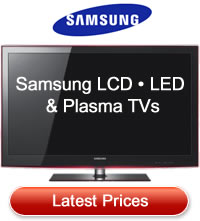 Samsung are proud to introduce the Next Generation TV with the release of the 7000 series LED TVs. Available from 40 inch to 55 inch these high definition 1080p LED TVs are designed with either a rose black or platinum black finish
The 55 inch model  is the largest of the current releases which uses the latest technology and brings a number of benefits including networking capabilities. The LED TV is super thin and super light at just 29.9mm thick. There is a slight hint of colour in the bezel that sets off this elegant TV perfectly.
Looking at the exciting Medi@2.0 technology that comes with the series 7 shows how the shape of TV entertainment is changing. Samsung have put together four media technologies that enhance your television enjoyment even further.
7000 Series TVs
Platinum black
Rose black
If interacting with web content isn't essential then Samsung series 6 LED TVs are equally as stunning. Two sizes are available at the moment 40 and 46 inch: UE40B6000 and UE46B6000.
The UE55B7000 55 inch LED TV features
55 inch screen size
Resolution: 1920 x 1080
Game Mode
Four HDMI
Ultra slim 29.9mm
LED lighting
Eco-friendly TV
100Hz Motion Plus
Mega Dynamic Contrast
Wide Colour Enhancer
SRS Trusurround
DLNA Wireless
Internet@TV
USB2.0 (Movie)
Content Library (Flash)
EPG
Rose Black
Feature description
Internet@TV: Simply by pressing the Internet @TV button on the remote opens up internet applications otherwise known as Widgets. This new internet content service will include Flickr, Yahoo! Finance, Yahoo! News, Yahoo! Weather and YouTube with the need to switch on your computer.
USB 2.0 Movie: A USB connection allowing you to easily share your photos, files and music instantly. Plus watch 1080p movies.
Content Library: A pre loaded gallery that allows you to select content categories on your TV without connecting to the internet. Various content available include cooking, games, fitness plus additional content can be downloaded from Samsung.
DNLA (Wireless): This enables you to access your photos, music and movies from your computer without the need for cables.
Series 7 LED TVs are environmentally friendly reducing power consumption by up to 40% compared to LCD TVs. Samsung LED TVs are also mercury-free, offering a significant benefit to the environment.
Wall mounting this ultra slim beauty is easy and takes the minimal number of screws and fixings. LED technology is also behind the much advancement in picture quality with contrast ratios far greater than previous LCD TVs.
This 55″ HD ready 1080p digital 100Hz LED TV uses 100Hz Motion Plus technology to reduce motion blur in fast moving action scenes. This is done by inserting extra frames in to the picture and intelligently calculating motion movements for much smoother pictures.
Superior audio to match the quality of the picture is produced by SRS Trusurround HD and Dolby Digital Plus. And to finish off there's an attractive and comfortable pebble shaped remote control a nice touch with the 7000 series..
Samsung are leading the way with their LED TVs that are made with recyclable bezel frames and eco-friendly lead free and mercury free materials. They' also include a stand by mode that reduces power consumption to less than one tenth of a watt.
These new thinner TVs also mean they require less resource to package and transport them. Buying an Eco Flower awarded LED TV means you can feel good about reducing your carbon footprint while enjoying all the benefits of a LED TV.