Samsung UE46C8000 3D TV
Finding your ideal TV isn't going to be easy with 2010 models better than ever and all the big hitters churning out feature packed sets. It may be a matter of sticking with tried and trusted champions in the industry. The latest models from the likes of Samsung will see improvements in LED backlighting and audio plus TVs with full compatibility with 3D.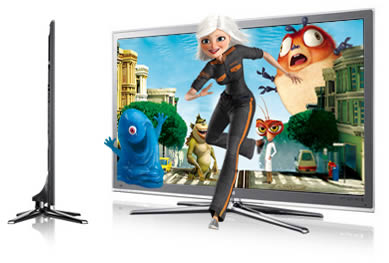 Samsung UE46C8000 3D TV
The world's first 3D FHD LED TVs come in the shape of the 7000, 8000 and 9000 series. This impressive line up includes RealD technology 2D to 3D conversion meaning you can watch 3D images adapted from 2D sources, Internet @TV has been given a makeover too. Looking at the Samsung LED C8000 you'll find a choice of three screen sizes 40, 46 and 55 inch.
These high end models UE40C8000, UE46C8000 and UE55C8000 are Full HD 3D Ready, come with an updated networking and online service, and 200Hz picture processing for a totally immersive experience.
The UE46C8000 will win plenty of admirers with its svelte good looks and modern design. A silver metal bezel surrounds the wafer thin screen as it sits proudly on its quad metal legs.
Samsung UE46C8000 Key Features
3D HDTV Ready
3D LED TV
Mega Contrast
Freeview HD Tuner
1920 x 1080 Resolution
RealD Technology
200Hz Motion Plus
Upgraded Internet@TV content portal
4 HDMI (v 1.4) inputs
Active 3D glasses are required to do the magic of creating 3D and can be purchased separately. As more retailers stock 3DTVs competition is likely to see package deals and TV offers with 3D spex and 3D Blu-ray player either included or reduced in price. The Active glasses are stylish and comfortable to wear ready for you to take a step into the future of 3D television.
There are various ways of watching 3D content: 3D Blu-ray, 3D Broadcast, 2D to 3D Conversion and 3D Gaming Consoles.
Samsung's use of edge-LED backlighting on the UE46C8000 not only produces fantastic High Definition pictures it amplifies images giving amazing clarity and colour. That on its own is enough to make a pretty impressive set combine with its 3D compatibility, integrated Wi-Fi and HD TV on tap care of Freeview HD and you have a winner on your hands.
The C8000 lies between two further ranges the C7000 series sits under with the following models: UE32C7000, UE40C7000, UE46C7000, UE55C7000
The all singing and dancing flagship the C9000 is due out later this summer and will sport an array of Full LED backiighting, a super slim screen (8mm) and a futuristic touchscreen remote control. The range includes a 46 inch UE46C9000 and 55 inch UE55C9000.