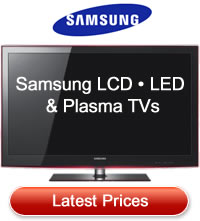 Samsung UE46B7020
Over its seventy years history Samsung has grown to become one of the world's leading electronics company and with their latest release of LED TV Series 6 and 7, you can see why. The new series are ultra slim at only 29.9mm deep, are light and deliver amazing pictures.
This smart LED technology delivers amazing pictures and a whole host of benefits. The UE46B7020 is an Eco awarded LED TVs which is environmentally friendly with recyclable bezel frames, mercury free and lead free materials, requires less energy making them much kinder to the planet.
If you don,t need the internet@tv web content feature then you may want to take a look at the Samsung's series 6 models. These are cheaper than the Samsung 7000 series and come in two sizes at the moment 40 and 46 inch: UE40B6000 and UE46B6000. The 40″ series 6 is available for less than a £1000.
The Samsung 46″ HD ready 1080p digital 100Hz LED TV is able to produce superior images that are clear, vibrant and true to life plus 100Hz Motion Plus technology ensures reduced blurring in fast moving scenes.
The 7000 series includes a 40 inch, 46 inch and 55 inch version in either rose black or platinum black.  The model numbers are
Platinum black
Rose black
The Wide Colour Enhancer pro with LED gamut also adds to the superior picture quality and LED lighting helps achieve a Mega Dynamic Contrast Ratio for improved contrast over previous LCD televisions.
The UE46B7020 delivers good audio performance with SRS Trusurround HD producing an atmospheric surround sound effect to compliment its impressive picture quality.
Key Features of Samsung 7020 series UE46B7020
46 inch screen size
24p technology
Resolution: 1920 x 1080
Game Mode
HDMI x 4
Ultra slim 29.9mm
LED lighting
Eco-friendly TV
100Hz Motion Plus
Mega Dynamic Contrast
Wide Colour Enhancer
SRS Trusurround
DLNA Wireless
Internet@TV
USB2.0 (Movie)
Content Library (Flash)
EPG: 7 Day
Picture-in-picture: 1 tuner PIP
Colour: Platinum Black
Samsung's 7020 series not only boasts the clearest, thinnest eco friendly LED TVs but also offers a new media experience. Medi@2.0 technology combines four media technologies that will enhance your television enjoyment.
Internet@TV: A new internet content services that allows you to watch TV Widgets from the internet without having to switch on your computer. News, sports, weather etc.
USB 2.0 Movie: A USB connection allows you to share your photos, files and music instantly.
Content Library: A pre loaded gallery allows you to select content categories on your TV without connecting to the internet. Various content available include cooking, games, fitness plus additional content can be downloaded from Samsung.
DNLA (Wireless): This enables you to access your photos, music and movies from your computer without cables.
For the purest picture this 46 inch LED TV has an Ultra Clear Panel that performs well in any lighting. Light reflection is eliminated for more comfortable viewing and pictures are detailed and clear.
The Next Generation TV from Samsung is also fully equipped for connecting all your HD devices and boasts 4 HDMI inputs. Another nice touch with series 7 is the new design of the remote control, Samsung describe it as a sea smooth pebble and an exquisite piece of electronic art.
This gorgeous ultra slim 46 inch LED LCD TV will really change the way you watch TV. Even before you switch it on this elegant television with its unique Crystal Design will take your breath away.
Note: Similar model numbers may also be used depending on sales channel or stockist for example UE46B7020WWXXC (Be Direct), UE46B7020WW (1stAudioVisual,Bennetts, Tribal UK, 24 Electric), UE46B7020W (John Lewis)