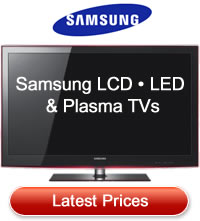 Samsung UE46B6000
Easy on the eye would be an understatement with this full HD 1080p UE46B6000 LED TV. Samsung LED TVs with their ultra thin design are  just 29.9mm thick and the UE46B6000 is undeniably lovely to look at. Sporting Samsung's unique Crystal Design, soft square corners and a hint of amber in the frame give this stylish TV special appeal.
This super slim TV has a great spec showing just how advanced widescreen TVs have become. 100Hz technology, 1920 x 1080 resolution, 4 HDMIs, game mode and USB 2.0. This 46 inch LED TV sports a stunning design with improved performance plus energy saving features gives it the edge over less eco-friendly televisions.
The UE46B6000 has a 46 inch screen but for those looking for the same quality in a smaller size LED TV there is the 40 inch UE40B6000. Both have the same  features offered with the series 6 LED TVs.
Better environmental credentials and the use of less energy gives this latest 46 inch the thumbs up. LED TVs use mercury free LED lights that require less energy plus the series 6 TVs are made with recyclable and environmentally friendly materials. Not only will you feel good about reducing your carbon footprint but you will be saving money on energy bills too.
Smart LED lighting is behind the Mega Dynamic Contrast Ratio enhancing greys as well as shades of amber, fuchsia and magenta. In addition the Wide Colour Enhancer Pro with LED gamut ensures rich and vibrant colour.
Motion blurring; a problem often associated with LCD TVs has been dealt with nicely thanks to 100Hz Motion Plus technology. Picture edge-blur has been removed and full, robust colour restored to each pixel.
Key Features of the UE46B6000:
46 inch screen
Ultra slim crystal design
Resolution: 1920 x 1080
Game Mode
HDMI x 4
LED lighting
Eco-friendly TV
100Hz Motion Plus
Mega Dynamic Contrast
USB2.0 (JPEG)
1000p Teletext
1080p is the purest form of high definition that a television can display. A smoother image is produced making watching sports and movies more enjoyable. Once connected to a compatible HD source like a Blu-ray player you can see movies just how the director intended. The 1080p Full HD Engine really does transform the way you watch television.
Audio hasn't been neglected either with SRS TruSurround HD and Dolby Digital Plus producing an atmospheric surround sound effect. You will feel completely immersed in the thick of the action.
You won't find you are short of essential sockets either with this model. It has 4 HDMI inputs for easy multi-media connectivity. Samsung has excelled themselves with their thin widescreen TVs this year and series 6 looks to be a winner along with their series 7 LED TVs.
Series 7 LED TVs offer the same superior audio and visual qualities as series 6 but has networking capabilities. Medi@2.0 technology is part of the high spec of the new 7 series that include the following models.
Samsung Series 7000
Platinum black
Rose black
Similar model numbers used may be used depending on a particular supplier for example UE46B6000VW (FlatTv Company), UE46B6000VWXXC (BeDirect), UE46B6000VWXXU (Direct Tvs)