Samsung UE40D6530 40-inch 3D Smart LED TV no longer available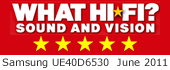 A new wave of ultra-thin flatscreens is here fully loaded with more 3D and impressive online functionality than ever before. The UE40D6530 40 inch Smart TV is already getting great reviews; early owners have been amazed by the remarkable picture clarity and sharp image detail.
It comes as no surprise that it has been awarded 5 star status in the June issue of What Hi-FI Sound and Vision magazine.
Smart TV
This won't be the last of Samsung's Smart TVs to take centre stage in 2011. This gorgeous looking set with its ultra slim design and long list of high end features will take some beating. Part of an impressive line up of 2011 internet TVs the D6530 comes with the new Smart TV Hub interface that will redefine the way you use your TV. Quicker and easier access to a whole host of internet apps and web browsing opens up new avenues to stay connected and become more informed.
Web Surfing and Apps Galore
One of this years highlights is Samsung's new range of LED TVs gives you access to a range of entertainment, sharing, social and internet options. Just like an over-sized Smart phone favourite content will at at the tip of your fingers like catchup TV on BBC iPlayer, Facebook, Twitter, Google Talk and Skype. You can even surf the net on your TV with a dedicated web browser optimised for the Samsung Smart TV.
Less Than 3cm Thick
This latest Smart Hub 3D model looks incredible and comes with a host of features all packed in a panel less than than 3cm thick. Thanks to clever designing the tiny 12mm bezel allows this 40inch TV to take up far less space compared to other same size TV. Samsung's elegant One Design is the the perfect frame for a two and three dimensional picture that looks just as stunning.
Samsung UE40D6530 Key Features
40" Full HD 3D LED
Charcoal Black
12mm Thin
Connect Share Movie
Freeview HD
Skype
Web Browser
Social TV
Models available in the D6530 Smart LED TV Series
32 inch UE32D6530, 37 inch UE37D6530, 40 inch UE40D6530,46 inch UE46D6530 and
55 inch UE55D6530
Difference between UE40D6530 and UE40D6510
There's not much difference when you compare the specifications and features between the D6530 and the D6510 series. But if you are looking for a white 3D LED TV the latter has a crystal white design. The UE40D6510 also has one of the star shaped stands rather than the flat one. At the moment we are seeing the UE40D6510 retailing slightly cheaper than the UE40D6530. The D6510 also comes in a number of screen sizes:
32 inch UE32D6510, 37 inch UE37D6510, 40 inch UE40D6510,46 inch UE46D6510 and
55 inch UE55D6510