UE40C7000 3D Enabled Full HDTV with LED Backlighting
The success of recent 3D films and Sky Sports broadcasts across the country has whetted many peoples appetite for 3D content and left a craving for more.
The wait is now over with the arrival of the first batch from Samsung. No doubt there will be a deluge of new 3D ready televisions hitting our shores by the summer but this new release is setting the stakes high.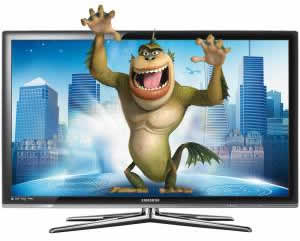 Samsung UE40C7000 40 inch 3D LED TV
Fresh out of the Samsung corner with quoted prices expected to be around £1800 is the 40 inch UE40C7000. Early reviews suggest this is a good price to pay for such an impressive set with or without 3D.
The C7000 LCD/LED range will be available to buy in larger screen sizes: a 46-inch Samsung UE46C7000, and a 55-inch Samsung UE55C7000.
To enjoy impressive 3D cinema action at home you'll need to buy a pair of Samsung's 3D active shutter glasses. These can either be battery powered or rechargeable ones. No doubt there will be TV bundle offers with free 3D glasses as competition heats up.
This high end model is sleek and packed with Samsung's usual superb features including internet TV capability, edge-lit LED backlighting, easy to use navigation, detailed deep black levels, high contrast and 200 Hz motion processing. For a must have technology this new model offers breathtaking pictures in addition to ultimate reality in 3D.
UE40C7000 Features
40 inch 3D LCD
1080p/24FPS
200Hz Motion Technology
Freeview HD tuner
Edge LED Backlighting
Internet@TV
4 x HDMI
USB x 2, Scart x 2