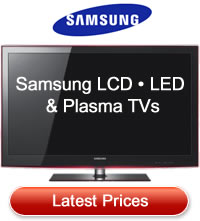 Samsung UE40B6000
When it comes to looking for thin TVs Samsung really do know how to deliver the goods. Their new LED TVs are a mere 29.9 mm in depth and are real show stoppers.
The Samsung UE40B6000 is a 40 inch LCD that not only looks good but promises to perform well too. Just like the 7000 series LED TVs this 40″ 6000 model also gets top marks for its eco-friendly design along with its energy saving features.
Series 6 models are available in the following screen sizes:
LED TVs look to be the future when it comes to televisions that are greener and less power hungry. The use of  mercury free LED lights require less energy and the models in the series 6 and series 7 range have been made with eco-friendly products.
Key Features of the Samsung UE40B6000
40 inch screen
Resolution: 1920 x 1080
Game Mode
HDMI x 4
Ultra slim 29.9mm
LED lighting
Eco-friendly TV
100Hz Motion Plus
Mega Dynamic Contrast
The latest slim LED TVs from Samsung produce astounding smooth images thanks to 100Hz Motion Plus technology. Images are judder free and sharper even in fast moving scenes plus its use of LED backlighting helps achieve greater contrast levels.
The Ultra slim Crystal TV has its own unique styling with soft square corners and a frame made with a hint of amber that really sets it apart from other thin TVs. It is crying out to be wall mounted and Samsung says it will only take one screw to mount this wonderful work of art.
This full HD 1080p UE40B6000 LED TV uses latest advancements to produce perfect pictures that are truly stunning and easy on the eye. Images are life like and full of rich contrasting colours.
There are 4 HDMI inputs to get video and pictures onto the LED TV; so connecting up to all your HD sources is nice and easy. Best of all the series 6 gives you the chance to enjoy all those digital photos you've taken but not got around to looking at. Simply plugging in a USB 2.0 movie connection cord allows you to play, save and delete photos/videos and works for your music collection too.
For those who like the idea of this super slim LED TV but would enjoy a variety of networking and multimedia devices too need not look very far. Samsung series 7 LED TVs are just as light and slim but offer you a new experience of internet content on your TV. Using Widget technology opens up a whole new world and allows you to connect to the web.
Samsung Series 7000
Platinum black
Rose black
Similar model numbers may be used depending on the particular sales channel or supplier for example UE40B6000VW (John Lewis, Bennetts), UE40B6000VWXXC (BeDirect), UE40B6000VWXXU (Direct TVs)