Older models no Longer available
Samsung's new 8000, 7000 and 6000 Series of flat screen TVs to be launched in 2009 represents a new generation of TVs.
Using LEDs as the primary back light source means these latest flat screen TVs will be 40% more energy efficient than previous LCD models  as well as being slimmer and delivering great pictures.
The latest plasmas to be released are the greenest yet and are constructed using lead free materials and highly efficient panels that intelligently conserve making them more environmentally friendly.
SAMSUNG Electronics Co., Ltd. is recognised as one of the leading manufacturers of liquid crystal displays.
They won numerous awards across their range of HDTVs and home theatre systems. As a global leader they are at the forefront of change blending innovation with advancement and 2009 will see an array of new products.
---
More Recent Samsung TVs
---
Samsung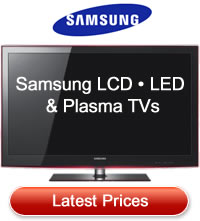 SAMSUNG was founded in Taegu, Korea in 1938 by Byung-Chull Lee. In the beginning his business was primarily in the export market but would soon diversify and evolve to become the world's leading consumer electronics brand. The massive South Korean conglomerate began production of black and whites televisions for domestic use in 1972 and in 1999 were first in the world to mass-produce and offer a full line up of digital TVs.
40 inch UE40B7020
46 inch UE46B7020
55 inch UE55B7020
40 inch UE40B7000
46 inch UE46B7000
55 inch UE55B7000
Employing approximately 150000 people in 134 offices in 62 countries, the company consists of four main business units: Digital Media Business, LCD Business, Semiconductor Business, and Telecommunication Business. SAMSUNG Electronics has become a leading producer of digital TVs, memory chips, mobile phones and TFT-LCDs.
You can learn more about Samsung Plasma and LCD TVs and find links to warranty information, instruction manuals, software downloads, drivers and firmware by visiting their website here: www.samsung.com