Samsung LE40B650
A five star review and Best Buy award from What Plasma & LCD TV shows what a stunner the LE40B650 is. Samsung has pulled out all the stops with this 40 inch Full HD to deliver amazing pictures and future proof connectivity.Perfect images are framed with the most elegant of finishes with its "crystal design" curvy design and a glossy red tint. This beauty will want to be shown off so it can uncover an array of features to blow your mind.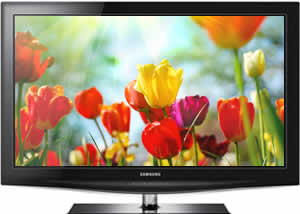 The LE40B650 40" LCD TV joins the few Internet enabled TVs already on the market and allows access via a set of widgets to websites such as Flickr, YouTube and news sites. You will also be able to stream digital files from a networked DLNA-certified PC. Thanks to Samsung's multi-media Content Library system various content can be played such as bedtime stories for kids, music, recipes and wellness videos.
In addition to its useful and exclusive widgets the Samsung 40 inch widescreen LCD is not shy when it comes to connectors. It has 4 HDMI inputs, Ethernet LAN port and USB ports that should keep everyone fully connected.
This may not be the cheapest 40 inch LCD TV around or even part of the latest Samsung LED TVs; instead it's a beautifully designed model that oozes quality in all areas. Highlights come in the shape of the Ultra Clear LCD Panel that produces the deepest inky black levels, brightest whites and richer colour saturation.
The inclusion of a 100Hz engine and MotionPlus technology minimizes blur and boosts motion reproduction in fast moving scenes and sports. Connecting to Blu-ray really does raise the stakes and gives impressive results with impeccable image detail in HD.
LE40B650 Key Features
40″ LCD widescreen
Full HD
Motion Plus 100Hz technology
24p Real Movie
Internet @ TV
4 x HDMI ports
2 x scart sockets
2 USB 2.0 ports
Wide Colour Enhancer
The following similar model numbers may be used to describe the Samsung LE40B650
LE40B650T, LE40B650T2W, LE40B650T2WXXC, LE40B650T2WX