New 22 inch TV/DVD Combi TVs from Samsung
Samsung, a market leader in consumer electronics has launched its first TV-DVD combo in the UK just in time for Christmas. It will be available to buy from mid November 2009. Their new HD Ready LCD television with built-in DVD player has a 22 inch screen, a popular choice for an extra TV around the house.
Space saving LCD TV with Integrated DVD Player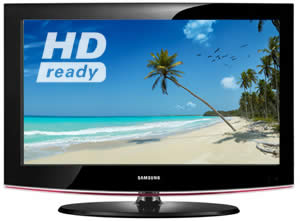 The LE22B470 is an ideal space saving solution and is perfect for a kids or adults bedroom. Combo TVs keeps everyone happy and gives you the freedom to choose between watching DVDs or the extra channels offered with Freeview. The integrated DVD player also plays audio CDs.

This new entry has a stylish glossy black bezel and Samsung's trademark red tinge along the bottom edge. Features include wide colour enhancer 2 for true to life images, game mode, PC input and 1 HDMI socket for hooking up to High Definition sources such as Blu-ray.
you may also like…
Philips Studio HD Freeview 100Hz 32" LED Television - Home & Hospitality Use (Hotel, Prison, Healthcare) - DVD-T & DVD-C - PAL - SECAM - Low Energy Use - USB MPEG 2 / MPEG 4 - Model: 32HFL2808D/12 - Black (inc Stand) - UK Model
Amazon
Compare Price
Cello C32227FT2 32 Inch HD Ready LED TV DVD Combi Freeview HD USB Record (Renewed)
Amazon
Compare Price
Toshiba 32WD3A63DB 32-Inch HD Ready Smart TV with Freeview Play and Buil-In DVD Player - Chrome Black/Silver (2019 Model) (Refurbished)
Amazon
Compare Price
Cello C 16230 F 16 -inch LCD 720 pixels 50 Hz TV With DVD Player
Amazon
Compare Price
Linsar 24" Full HD LES TV With Soundbar & DVD
Amazon
Compare Price
22" CELLO C22115F 12 volt HD LED TV - Built in DVD Player, USB Media Centre and Freeview - Designed for Caravans, Motorhomes, Boats and Trucks
Amazon
Compare Price
Cello C20230F 20 Inch Freeview LED TV with built-in DVD Player - Pink
Amazon
Compare Price
Sharp LC-24DHG6001KF 24 Inch HD Ready LED Smart TV with Freeview Play, Built-In DVD Player - Black
Amazon
Compare Price
The TV-DVD Combi is stocked at major retailers including Dixons, Curry's, John Lewis, Comet, Amazon and Play, as well as independent retailers across the UK.
LE22B470 Key Features
Integrated DVD player – also play audio CDs
DNIe – Advanced image technology
HD Ready 720p – Great quality on HD sources
HDMI input – HD quality connection
PC input – also use as a PC monitor
Click Here for the Samsung LE22B470 Specification