Samsung 3DTVs for 2010
The lucky ones who have already tasted the 3D effect at cinemas know how immersive it can be. Thanks to Sky Sports football fans have also been enjoying the big games in selected pubs around the country. It's no wonder the search is on to find the best 3D ready TV in time to watch the 2010 World Cup in June.
This doesn't give you much time to find out the latest models, compare prices and specs from all the big hitters. Like any new technology its can be quite daunting especially as new TVs are coming through thick and fast packed with all sorts of delights.

We've had LED TVs, Internet TVs, iPlayer TV, Freeview HD and Freesat TVs at all pricing levels and now the long awaited 3DTV has arrived.
Samsung 3D enabled LED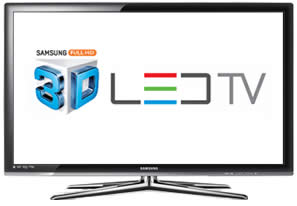 There is no doubt that Samsung has a head start with the release of the World's first 3D LED TV the UE40C7000. This great looking set comes with an abundance of features and has already been given top marks for its scintillating performance and 3D functionality.
Samsung's new models for 2010 include 3D ready TVs that offer improved LED backlighting, audio quality and a better Internet@TV interface. It's not just the new screens that have had a makeover the swanky new style remote control has too.
The LED C7000 series include Full HD 3DTVs in 40, 46, 55 inch screen sizes. Features include Freeview HD, Internet@TV content service and PVR functionality.
You will be able to simply connect to the internet via Samsung's wireless dongle or an Ethernet cable to enjoy a range of content from LOVEFiLM, BBC iPlayer, Twitter, YouTube and many others.
The LED 8000 and award winning LED 9000 are higher end models with 200Hz picture processing. The latter series also sports a futuristic touch screen control and super slim screen at 8mm. Samsung 3D LED TVs out this year also benefit from RealD tech, which has made it possible to convert 2D movies to 3D.
Richer colours, smoother motion and mega contrast levels plus full compatibility with 3D can be expected for an ultimate reality experience like never before. Samsung's line up for 2010 will give a wide choice of 3D-ready LED, LCD and Plasma televisions as well as 3D Blu-ray players and home theatre systems.
2010 Samsung 3DTVs at a Glance
Samsung 3D LED TV C7000 Series
Full HD, Sky 3D Ready, Internet@TV, Edge-lit Backlight, Freeview HD built-in, PVR and wireless functions, new style remote, light and sleek design
Samsung 3D LED TV C8000 Series
Built-in Freeview HD, Internet@Home with access to BBC iPlayer, LoveFilm and Muzu.TV, Edge-lit Backlight, slim and light design at just under 30mm in depth, PVR functionality and 200Hz Motion Plus Technology.
40" UE40C8000
46" UE46C8000
55" UE55C8000
65" UE65C8000
Samsung 3D LED TV C9000 Series
Ultra thin at 8mm thick, RealD tech, aluminium stand, edge-lit Backlight, new touchscreen full colour TV remote, revised version of Samsung's Internet @TV and 200Hz picture processing.
46" UE46C9000
55" UE55C9000
The UE40C7000 has made a stunning debut with its quality 3D performance, superior edge backlighting and svelte good looks. This leaves Samsung in pole position as the battle commences for the best 3DTV to buy.
Samsung will be keeping a watchful eye on the new 3D models from the camps of LG, Philips, Sony and LG. It won't be long before we see if LG have a surprise winner with their 3D Ready Infinia LX9900 series or their ultra slim LED LE9500 range. Other contenders will be the Phillips 8000 and 9000 series and the mighty Sony collection of Bravia 3DTVs namely the KDL-HX903 and KDL-LX903 series.