Older models no Longer available
Panasonic TX-L32S20 With Freeview HD Tuner Under £400
If you're looking for a 32 inch LCD TV that offers an impressive picture performance, Freeview HD and an attractive price tag, look no further. The Panasonic TX-L32S20 gives you this and more all at under £400. A 5 star verdict and Editors Choice from Techradar makes this mid size marvel the one to watch.
---
More Recent Panasonic TVs
---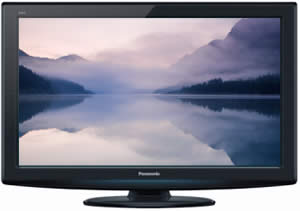 View more 32in Panasonic LCD TVs
There's no Internet widgets or multi media streaming instead you have a TV that does an excellent job with both standard and high definition content. Enjoy superb pictures with colours that are refreshingly natural with realistic black levels and HD pictures that are super sharp.
The TX-L32S20 has a Freeview HD tuner built-in so if you live in an area that receives HD programming you'll be able to pick up BBC, ITV and Channel 4 HD Channels. You can look forward to a subscription free way of watching stunning picture displays in Full HD of sports, dramas and documentaries.
Smooth Motion Images with 100Hz Intelligent Frame Creation Pro
Considering this is mid range LCD and not one of Panasonic's top notch Plasma smoothies the S20 series motion handling works pretty well. It boasts 100Hz processing for an impressively smooth fast moving action plus a wide viewing angle making it comfortable to watch for everyone in the room.
There is an SD card slot that lets you display photos and home movies on the big screen. The home movie show is made all the more interesting with the special background music, slideshow frames and transition effects.
Panasonic TX-L32S20 Key Features
VIERA Full HD 32 inch LCD television
Freeview HD built-in
100Hz Intelligent Frame Creation Pro
Wide viewing angle with IPS-alpha panel
VIERA image viewer (photo and video)
Smart networking with VIERA Link
Game mode
3 x HDMI
Enhanced Gaming Experience and Faster Image Response Time
Not to be left out gamers will enjoy tweaking the S20 to get the best out of their console games. The Game Mode feature gives a faster refresh rate increasing the enjoyment of video games when used with consoles like the PS3 and Xbox 360