50 inch 3D Big Screen TV
Panasonic TX-P50ST30 no longer available
If you want to start the new year with a brand new big screen 3D TV that won't break the bank then the Panasonic TX-P50ST30 may just fit the bill. In addition to their super award winning TVs in 2011 you can find some pretty good deals on their superb range of 3D models.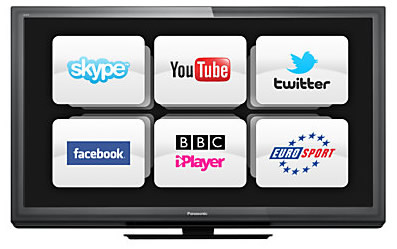 Panasonic TX-P50ST30 50 inch Plasma TV
These offers now expired – see stores for updated TV deals
With TV sales in full swing expect plenty of offers and special promotions too. Today we spotted a TVOffer with 2 x Free 3 D Glasses (worth £159.90) running until 31st January 2012. Alternatively, some of the best prices can also be found at Amazon, Tribal UK and Hughes Direct.
Internet Ready TV with Freeview HD under £700

For an incredible cinema screen performance at a much leaner price than its high flying relatives in the GT30 series comes the modestly priced TX-P50ST30. This 50 inch may not have an extensive spec sheet as higher end Panasonic TVs but if you can live without a Freesat tuner, wireless streaming and USB recording then its your for less than £700.
What you do get is an integrated Freeview tuner, built-in V-audio surround sound, 24p Real Cinema settings for judder free playback and 4 HDMI sockets for hooking up to your Blu-ray player, satellite receiver and games consoles. Viera cast portal will allow you to enjoy videos, music, sports, games and more content on demand via a wireless dongle (available separately).
TX-P50ST30 Key Features
50" 1080p 3D Ready Plasma Screen
Freeview HD Tuner
600Hz Frame Creation Pro
2D and 3D Conversion
V-Audio Surround
600Hz Frame Rate
4 x HDMI
VIERA Connect
Neoplasma Technology for the Best Picture Quality
Thanks to the new VIERA NeoPlasma technology, the ST30's has proved an impressive performer with solid 3D images and superb 2D full HD picture quality. Crisp and clear pictures along with deep and detailed black tones, smoother moving images and higher contrast makes this a joy to watch.