NEW Panasonic 42 inch TX-L42D25B LED with Freeview / Freesat HD
The TX-L42D25B is a new LED TV from the Panasonic corner and is part of their comprehensive range of Freeview/Freesat HD sets for 2010. Today's great TV deal comes from John Lewis. Buy the 42" TX-L42D25B at £1099 and receive a FREE Blu-ray disc player worth £149. Also FREE is their standard delivery and 5 year guarantee on the television plus 2 year guarantee on the Panasonic DMP-BD45EB Blu-ray player.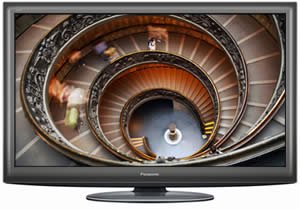 View more Panasonic TV Offers
The 25 series uses LED back-lit technology for the thinnest designs, sharper images and superb colour rendering with black levels on par with the best plasmas.  The double whammy of built-in HD tuners is another aspect of this Panasonic's array of talents.
You'll also get a Full HD IPS LED panel known for its wide viewing angle, high contrast and bright energy efficiency LED backlight. 100Hz and Intelligent Frame Creation Pro picture processing is also thrown in the mix for better motion and the smoothest images.
Look out for more John Lewis offers:
Free Blu-ray Offers,
Free 3D Active Glasses
Trade-in Offers
Free TV Wall Mount
Free DVD Home Cinema Systems
Freeview / Freesat HD
If you live in a suitable reception area you can use the TX-L42D25B to pick three channels of free-to-air HD from BBC HD, ITV HD and C4HD. The other option to view a subscription-free HD broadcast is via the Freesat built-in tuner. You will however need a dish and cabling installed for this service.
The 42 inch screen displays sharp clear images and uses focus technology for a far superior resolution. It's a great size TV for watching football and action movies where you can fully appreciate its clean motion handling.
TX-L42D25B Key Features
42 inch
VIERA Full HD LED LCD TV
Freeview HD & Freesat HD Built-in
IPS LED LCD
Intelligent Frame Creation Pro
Dynamic Contrast 2,000,000:1
Wide Viewing Angle with IPS Panel
24p Smooth Film/Playback
V-Audio ProSurround
VIERA CAST (For access to the internet)
VIERA Image Viewer (Photo and Video)
DNLA compatible
4 HDMI inputs
PC input
2 x USB
Available sizes in the D25B range include:
32 inch TX-L32D25B
37 inch TX-L37D25B
42 inch TX-L42D25B