Panasonic TVs
A new era of TV viewing is upon us with the technology going from strength to strength giving stunning results.
The latest news in 2009 from the Panasonic camp is the development of super thin Plasma (PDPs) and LCD HDTV displays.
The new thin-profile display panel has been introduced in two types of PDPs; the 42-inch PDP and an ultra thin 50-inch PDP that is just 8.8mm in profile.
This new NeoPDP technology used in these Plasma TVs achieves triple luminance efficiency while reducing the power consumption by a third compared to 2007 models.
The picture quality is not compromised in any way and the same brightness is achieved.

2009 Panasonic LCD and Plasma TVs
Panasonic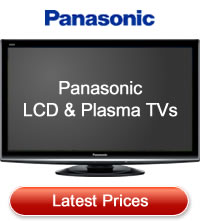 Not to left out; the newly developed NeoLCD technology has been incorporated in their 37-inch LCD panel models. As of January 2009 it has the lowest energy consumption compared within 37-inch full high-definition class LCD TVs. Eco friendly TVs are the way forward and are set to dominate the TV scene for a greener future.
Panasonic appreciate the importance of designing products that are energy efficient and are producing TVs that have the least impact on the environment. Plasmas TVs and LCD TVs for 2009 will be achieving further enhancements both in picture quality and in environmental performance.
The VIERA series is Panasonic's name for its range of plasma and LCD flat screen TVs. Viera TVs incorporate the latest technology and style. Expect a new line up of VIERA LCD models and Plasma TVs in 2009.
Latest Panasonic offerings will include an IPS Alpha panel with a large aperture ratio. This advanced panel provides clear moving pictures, high contrast, and a wide colour viewing angle.
The V10 Series is a top product line with a great picture thanks to 100Hz intelligent frame creation technology. This range will be available in 32 inch (TX-L32V10) and 37 inch (TX-L37V10). The slim design is packed with a host of features such as VIERA CAST, VIERA Image Viewer, VIERA Link, and DLNA.
Panasonic has come along way from its humble beginning back in 1918. It was in Osaka in Japan when Konosuke Matsushita founded Matsushita Electric Manufacturing Company. He invented a two-socket light bulb and with just three employees started producing and selling light bulbs.
A timeline of inventions include a new type of bicycle lamp came in 1923, followed by the development of the first radio just 8 years later. In 1935 they launched their first television which was to prove to be immensely successful and led to the massive growth of the Panasonic Corporation as we know it today.
Panasonic (Matsushita Electric Industrial Co., Ltd) is one of the largest electronic product manufacturers in the world and has over 600 companies. . They manufacture and market over 15,000 high-quality, high-performance products under brands such as Panasonic, National and Technics.
Matsushita Electric Industrial Co., Ltd. (Matsushita [NYSE symbol: MC]), best known for its Panasonic brand, changed its company name to 'Panasonic Corporation' this was effective from October 1, 2008.
You can learn more about Panasonic Plasma and LCD TVs and find links to download operating instructions, quick start guides, manuals, FAQs and software drivers by visiting their website here: www.panasonic.co.uk