Panasonic New Plasma TVs 2011
Its that time of year again when TV manufacturers start to roll out the latest additions to their ever growing family.  Each year brings something new to whet your appetite with cutting edge technology and amazing detailed images.
Panasonic are launching a new selection of VIERA plasma TVs that have superior eco credentials, improved product performance and enhanced networking features.
---
Panasonic TVs
---
Older Models No Longer Available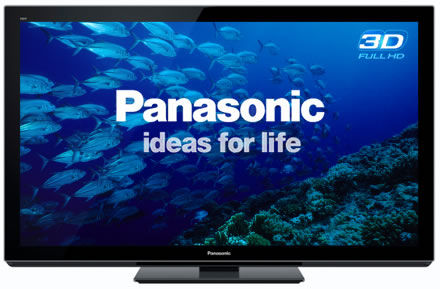 The following list of models due for 2011 release gives you a brief overview on what to expect from each series and the screen sizes available. Bit too early for any major bargains on these new tvs but check out Online Discount Codes later in the year for any offers available at your favourite electrical retailers.
New VIERA NeoPlasma 3D Models
VT30 3D Plasma Series
Last year the VT20 3D plasma series walked away with numerous awards with models TX-P42VT20B, TX-P46VT20B TX-P50VT20B TX-P65VT20B and no doubt the 2011 versions will be in with a shout. Expect improvements in design, entertainment functions and image quality. The latest 3D models are especially suited to 3D thanks to 600Hz fast response time and impressive pictures.
Panasonic VT30 Video
Panasonic VIERA VT30 NeoPlasma
The VIERA VT30 NeoPlasma series is the best in the line up of 3D TVs from Panasonic and features 600Hz sub-field drive Intelligent Frame Creation Pro for excellent motion, advanced networking capabilities, VIERA Connect, Freeview HD & Freesat HD and come with two pairs of 3D eyewear. Models are available in 42, 50, 55 and 65 inch: TX-P65VT30B 65,TX-P55VT30B,TX-P50VT30B,TX-P42VT30B.
VIERA GT30 3D Plasma series
The GT30 series offers full HD, VIERA Connect, slim design 3D TVs: the 50 inch TX-P50GT30B; the 46 inch TX-P46GT30B and the 42 inch TX-P42GT30B. The attractive looking model excels both in 2D and 3D and gives you easy home networking, is DLNA/Wifi Ready, has 4 HDMI connections and 3 USB ports. This series does not include dedicated 3D eyewear.
The VIERA ST30 3D Plasma series
This series gives you three screen sizes the 50 inch TX-P50ST30B, the 46 inch TX-P46ST30B and the 42 inch TX-P42ST30B. These Full HD 3D HDTVs are feature packed and include Infinite Black Pro Panel; VIERA Connect, Skype Video calling, 3 HDMI connections and 2 USB ports. Wi-Fi is through USB port and dedicated 3D eyewear is not included
New VIERA NeoPDP Plasma TVs
G30 Series
The G30 NeoPlasma range includes 50 and 42-inch screen sizes in full HD. Features include 600Hz IFC Pro, THX Certified Display, Infinite Black Panel and various networking functions including VIERA Connect and HDD recording. Models available: 50 inch TX-P50G30B, and the 42 inch TX-P42G30B
S30 Series
Another Full HD plasma TV with freeview HD up its sleeve, 24p Smooth Film, Viera Connect, V-Audio surround, 3 HDMI inputs, Wi-Fi Ready and V-Audio Surround. Only one size in 42 inch TX-P42S30B.
U30 Series
Two sizes 42 and 50 make up this latest series of full HD plasma TVs with freeview HD, 600Hz Sub-field Drive, game mode, VIERA Link and Image viewer. 50 inch TX-P50U30B and 42 inch TX-P42U30B.
New VIERA Plasma TVs
C3 Series HD Ready
Two sizes are offered in this series the 50 inch TX-P50C3B and 42 inch TX-P42C3B. Models are HD ready with Freeview HD providing you with a convenient way of watching subscription free HD content. Other features include Game Mode, Viera Link and SD card slot for hours of entertainment playing back videos, photos and slideshows on the big screen.
2011 promises to be the year of Web TV and may be a main selling point when it comes to buying a TV. That's not to say the world has finished with 3D, there will be 3D improvements all around and most of the TVs released today will be 3D ready, feature packed and well connected. Panasonic's new selection will have something for everyone.
Most of these TVs should start appearing in the shops soon. Once they are available to buy we'll add them to our website so you can compare current prices.