Older models no Longer available
LG 32LE5300 32" Full HD 100Hz LED TV with Freeview
If the reviews of the LG 32LE5300 are anything to go by you can look forward to an amazing picture, great sound and an elegant looking set. LG has excelled itself with the quality and easy to use features of their mid sized 32 inch LED TV but today it's the price that impresses us the most.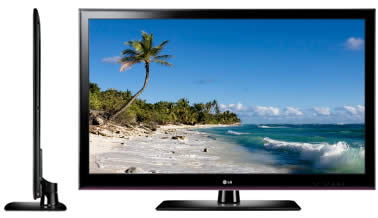 32 inch LG 32LE5300 LED TV
Compare the price and you'll find some great savings bringing the price in at around £400 with Free delivery from some outlets. Not bad for an ultra slim, Full HD LED Backlit TV with Freeview, Trumotion 100Hz and USB connection.
---
More Recent LG TVs
LG 32LM630BPLA (2019) LED HDR HD Ready Smart TV, 32 with Freeview Play/Freesat, Black
John Lewis & Partners
Compare Price
---
32 inch screens are becoming the norm for gaming enthusiasts and are a popular all rounder in the home. Smaller room and bedroom TVs benefit from the ultra slim design LED technology has produced. Now the once huge frame of an old style 32" TV has been slimmed down making it ideal for wall hanging where space is limited.

Experience the Full Potential of High Definition
Buying an LG HD-Ready 1080p provides up to 5 times more picture clarity compared to standard definition. High definition gaming and movies will come alive with realistic images and immersive action.This latest LED TV series comes with good connections there are 4 x HDMI ports for hooking up to various HDMI equipped sources and a USB socket for onscreen viewing of pictures, music and videos.
Key Features of the LG 32LE5300
Edge LED Backlight TV
Ultra slim
100Hz TruMotion
Built-in digital Freeview
4 x HDMI
USB 2.0
USB Media Player for MP3, JPEG & DivX
Intelligent Sensor 2
Smart Energy Saving Plus
The 32LE5300 with TruMotion 100Hz is designed to reduce blurring on fast moving scenes. You can enjoy vibrant colours, deep blacks and amazing detailed pictures thanks to the use of LED innovation display technology. LG's 2010 LED models are also more energy efficient compared to LCD TVs saving you 40% of power consumption.
The LE5300 LED TV series from LG is available in a wide range of screen sizes including 32, 37,42, 47 and 55 inch. The model numbers for these are the 32LE5300, 37LE5300, 42LE5300, 47LE5300 and 55LE5300.