Older models no Longer available
LG50PX990 50 inch 3D Plasma Internet TV with Freeview HD
Enjoy LG's latest talents in all three dimensions with the great performing 50 inch 50PX990. Impressive looks, finish and specifications plus a low price gives LG the edge over its competitors. The PX990 3D TV Infinia series is LG's flagship 3D ready plasma TV with absorbing images, breathtaking 3D effects and stunning colours.
---
---
LG50PX990 50 inch 3D Plasma Internet TV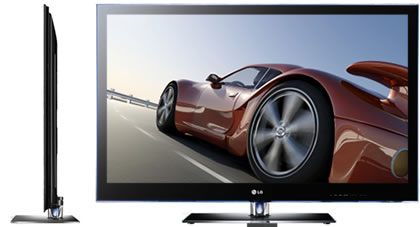 The World's First THX 3D Certified TV Display
Today's finest 3D Plasma TV has arrived along with LG's lightweight 3D Glasses for more comfortable viewing. LG's Infinia plasma screens are among the first to achieve a THX 3D display certification. This means you can recreate the ultimate cinematic experience in your living room with stunning clarity, full HD detail and amazing 3D effects. The LG 50PX990 plasma screen together with the comfier specs produces a most effective and relaxing 3D experience.
This smooth good looking set boasts an extensive specification that includes 600Hz processing for razor sharp response time and blur free motion. Also on board is freeview HD reception, Netcast, two THX presets, a wireless dongle, a single pair of glasses and a pair of remote controls. Both remotes are easy to use with the small one having reduced functions most commonly used.
PX990 What Hi Fi Super Test Winner
Followers of TV reviews will be pleased with the positive comments and feedback from What Hi Fi Sound & Vision. The LG 50PX990 was up against some tough competition from Samsung, Sony, Panasonic and Philips and proved a worthy winner in their recent Supertest.
Conclusion
The overall conclusion was the PX990 is the one to look up to and that all other 3D models should be compared against it. Up until LG's latest contribution it was Samsung fighting for supremacy in the 3D arena. The impressive Samsung PS50C6900 and its exhaustive spec was the one to beat.
Apps aplenty with LG's Netcast
Get ready to enjoy the best of the internet directly on the big screen without the need for a computer. LG's Netcast service gives access to YouTube videos, Picasa online photo sharing, BBC iPlayer, Accu weather forecasts, social networking and many more applications.
You can access this service by connecting the PX990 to your home network either via the built-in Ethernet port or by using an optional Wi-Fi USB dongle. Any future online services can be easily be updated onto your LG TV.
LG 50PX990 Key Features
50" 3D TV Ready
Slim Infinia Plasma TV
1 pair active shutter glasses
Freeview HD
Compatible with Sky 3D
2D to 3D converting
600Hz
Netcast Internet Access
DLNA Compliant, USB 2.0