LG 50PK990
Whether you are watching, playing or listening, 2010 TVs are better than ever and growing by the minute. LG's new line up includes their Infinia plasma Freeview HD TV PK990 series. It's always worth shopping around to get the best price TV, today you can buy the 50 inch plasma 50PK990 at well under £1200.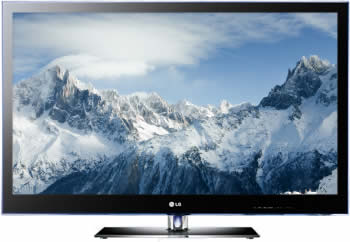 50 inch LG 50PK9900 Plasma TV
Available in 50 and 60 inch these mega screens received superb reviews and were admired for their sleek design and use of cutting edge TV technologies. What Hi-Fi Sound and Vision (May issue) gave a 5 star review and voted the 50PK990 a Best Buy 50 inch.
The Korean company's new higher end models boast Freeview HD tuners, picture enhancing 600Hz processing, Bluetooth capabilities, USB playback, Netcast and delivers on it all with ease. The 50 inch LG 50PK990 is supremely well specified and looks gorgeous too. Its one layer fascia is slim and alluring and sits on a stylish desk top stand.
The bang up-to-date spec, full HD resolution, USB 2.0 connection and four HDMIs allows you too play videos, pictures and audio. In addition hooking up to the internet (via Ethernet or Wi-fi USB dongle) gives you access to LG's web system, Netcast. Current services are YouTube, Picasa and Accuweather but as new services become available your future proof TV can be updated via the internet.
50PK990 Key Features
New Infinia Design with slim frame & depth
Built-in Freeview HD Tuner
Full HD 1080p
600Hz Max Sub-field driving
Mega Contrast Ratio
TruBlack Filter
Netcast (WiFi dongle supplied)
DLNA
4 HDMIs
1 x Ethernet,1 x PC input
2 x USB 2.0
Manufacturers are wowing us with all sorts of delights and and in so many different flavours that there's not always much difference between one model to another. For example looking at the latest LG PK990 and PK790 series and you'll find an almost identical spec. The main difference looks to be the inclusion of the TruBlack filter on the PK990 and WiFi dongle.
The 50PK990 improved black level response and colour rich plasma pictures are what really sets the series apart. Colours are more natural, whites are vibrant and full of life while the TruBlack filter blocks out glare and reflection.
A plasma TV is renowned for excellent motion handling and is perfect for watching fast paced sports action. You can look forward to blur free images that are crisp and detailed and splendid high def viewing with
Freeview HD TVs enables you to receive free to air broadcasts. This includes all of the usual Freeview channels plus addition channels in glorious HD. You'll enjoy five times the quality of standard definition, 5.1 surround sound and with no subscription to pay.
LG large screen Freeview HD TVs
Plasma TVs
50PK590, 60PK590
50PK790, 60PK790
50PK990, 60PK990
LED TVs
32LE5900, 37LE5900, 42LE5900, 47LE5900, 55LE5900
Infinia LED TVs
32LE7900, 37LE7900, 42LE7900, 47LE7900, 55LE7900,
42LE8900, 47LE8900, 55LE8900, 47LX9900, 55LX9900
LCD TVs
32LD690, 42LD690, 47LD690, 55LD690