If you are on a tight budget and are on the look out for a bargain big screen then today you are in luck. Currys latest offer can save you over £400. The big 50 inch beauty from LG was £999.99 but has now been reduced to £599.00.
New Deal Price: £563.06 at Currys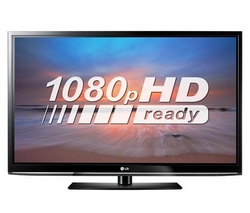 Use Currys latest Discount Voucher Code to save an extra 6%
Voucher Code: SALES6
Download High Definition films, Pictures & Music
With the PK350 you not only get full HD with 600 Hz blur free technology, it also allows you to watch downloaded material via the USB port. This best value 50 inch plasma looks good too even before you turn it on. The new razor frame design is narrow and slim and at just 5.5cms you'd think you're looking at one of the latest LED screens.
You can enjoy large screen action, football and films that plasma displays do so well. Brilliant pictures and smooth images are rendered perfectly clear with superb contrast and impressive black levels. It's also worth mentioning the LG 50PK350 has a user friendly interface and is easy to use thanks to LG's Picture Wizard.
LG 50PK350 Key Features
Full HD 1080p
Freeview
600Hz Technology
USB Connectivity
PC input
2 HDMI
Picture Wizard