LG 47LX9900 47in Full HD LED 3D Infinia Freeview HD TV
LG's contribution to the third dimension comes in the shape of their LED powered LX9900 series available in 47 and 55 inch screen sizes. Both models boast super slim screens that use innovative Full LED technology for a far superior uniformity to that of edge mounted systems.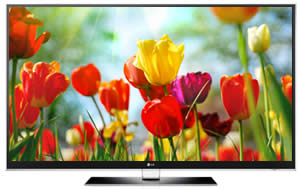 LG 47LX9900 3D LED TV 400Hz Technology
If you compare prices for the LG 47LX9900 47 inch 3D TV you can get a good deal for under £2000. For a limited time current Currys and Comet Discount Codes can save you up to 8%.
Sensational 2D Pictures
Even if 3D isn't going to be the main source of entertainment LG's Infinia branded TV is packed with the latest picture enhancing and media sharing features. If it's a movie machine you're after it makes sense to buy a bigger screen to fully appreciate the remarkable picture both in 2D and 3D.
Wide-Ranging Functions
The LG 47LX9900 has all the connectivity needed to handle today's high definition requirements and multi media functions. The Ethernet port can be used for streaming files from a DLNA PC while the USB can play DivX HD, MP3 and JPEG files. Hooking up to the internet via a router will also access LG's Netcast online service.
47LX9900 & 55LX9900 Key Features
3DTV
Magic Motion
400Hz
Freeview HD
Full LED
NetCast
USB Input
4 HDMIs
2 Pairs of Active 3D Glasses included
Magic Motion Remote Control
Easy to use and a futuristic looking Magic wand style remote is another plus for LG which can be used as an alternative control method for playing games. There is a standard hand held remote also included. With the amount of sophisticated features you'd expect the LX9000 series to be complex and difficult to use, but LG has done their homework. The 47LX9900 and 55LX9900 on screen menu and remote are well presented and comfortable to use.
Reading reviews of the 47LX9900 and 55LX9900 gives you an insight into performance and overall product summary. The New TV buying guide was impressed with its high brightness levels, rich colours and sharpness. Pictures looked detailed and crisp even in dark scenes with clear fluid motion.
LG's 2010 line up of 3DTVs are not only luxurious to look at they are high tech multi talented TVs. Best of all, they combine the latest LED backlighting technology, excellent picture processing and 3D capabilities making this the one to watch.