LG 42SL9000 LED TV
LG has well and truly set its stall out with their new SL9000 series and introducing two LED specials in 42 and 47 inch screen sizes. The first past the post with Best Buy and 5 gold stars is the LG 42SL9000 which received an excellent review from What Plasma & LCD TV. Also available at Dixons is the model LG 42SL9500
This 42 inch stunner is ideal for wall-hanging with its slender flush fitting screen and frameless design. It's hard to believe this LCD TV comes fully loaded with the latest in high tech and wizardry considering it is just 3cm thick.
LG 42SL9000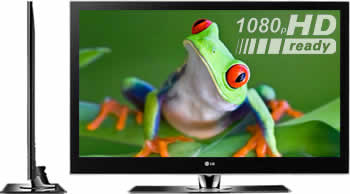 You will find the max in pixels of 1920 x 1080, 100Hz processing, Freeview, 24p Real Cinema, Bluetooth connectivity and LED edge-lighting for amazing levels of black.
Thanks to ground breaking LED technology; television screens are slimmer than ever and deliver improved levels of contrast over standard LCD models. The SL9000 series uses edge-lit LED backlighting rather than a rear-mounted LED grid.
By placing the LEDs around the side of the screen manufacturers are able to slim down their screens and produce designer screens like LG have with the 42 inch 42SL9000 and 47 inch 47SL9000.
With the promise of deeper blacks, improved colours, better clarity and slimmer screens you could easily overlook how much you can save on energy bills. This latest LED TV from LG has power saving features and can save up to 40% on power consumption when compared to an LCD TV. The SL9000 is also certified by the Energy Saving Trust.
Key Features of the 42SL9000
Ultra slim Frameless design
42 inch LED TV
Full HDTV
1920 x 1080p resolution
LED Backlighting
24p Real Cinema
SRS TruSurround
Built-in speakers
Intelligent Sensor 2
Dolby Digital decoding
100Hz Trumotion
Contrast Ratio 3,000,000:1
Energy Efficient
4 HDMI sockets
USB (with HD movie playback)
2 x scarts
Bluetooth & PC input
Ease of use
Also available in 47 inch screen size 47SL9000
Watching HD content on the SL9000 should come with a health warning because it will blow your mind. Scenes look fabulous, images real enough you'll want to touch them and detail and texture truly amazing. There is no going back to good old standard def once you've tasted HD in all its glory.
The highly rated LG 42SL9000 performed well in all areas including picture quality, sound, connections and proved it was well worth its price tag. Quality doesn't come cheap but anyone looking for a masterpiece will be pleasantly surprised to find this top class LED TV greatly reduced from its £1200 launch price. You can find the best price for the 42SL9000 at under £1000 at many TV online stores.