The new 42 inch 42LE5300 from LG has just started to appear in online stores like Dixons, Currys and simply electrical. The super slim screen is just 29.3mm thin and has a Full 1920 x 1080p resolution for amazing clarity and detail when watching Blu-ray or playing high definition gaming.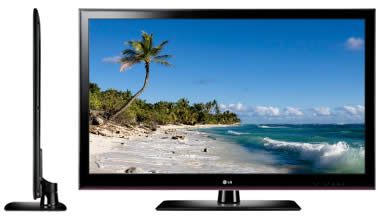 View more LG LED TVs
TruMotion 100Hz
Blurring and flicker of fast moving scenes is reduced on the 42LE5300 using 100Hz technology which displays 100 images per second, double the rate of standard TV sets. This means you get less eye stress and makes it ideal for watching sports broadcasts and movies.
The TV uses edge LEDs where the lights are arranged around the edge of the screen. This gives you the ultra slim design making it perfect for hanging the TV on a living room wall.
Connectivity includes 4 x HDMI inputs for hooking up other HD sources like Blu-ray disc, PLAYSTATION 3 and Sky HD Boxes. There is a USB 2.0 input making it really easy to access your favourite pictures, music, videos and connect a digital camera or camcorder to show off your holiday snaps or playback HD DivX movies.
LG 42LE5300 Key Features
LED TV
Full HD Ready 1080p resolution
Intelligent Sensor 2
100Hz TruMotion
Built-in digital Freeview
4 HDMI inputs
USB Input
The LE5300 LED TV series is available in a range of screen sizes including 32, 37,42, 47 and 55 inch. The model numbers for these are the 32LE5300, 37LE5300, 42LE5300, 47LE5300 and 55LE5300.
Other 42 inch TV from LG
LG must be the specialist when it comes to the 42 inch screen size as they have so many different types just in this size.
Summary of their current 42" TVs.
42" 3D LED TV
42LX6900
42" LED TV
42LE8900 42LE7900 42LE5900 42SL9000 42LE9500
42" LCD TV
42LD790 42LD690 42LD550 42LD450 42LD420 42SL8000 42LF7700 42LH5000 42LH7000 42LH3000 42LH2000 42LH4000