42 inch Full HD LCD TV LG 42LD450 under £500
Today this new 42 inch LCD was on sale at Amazon at an amazing price of £499 there are plenty of retailers selling the new LG around the £550 mark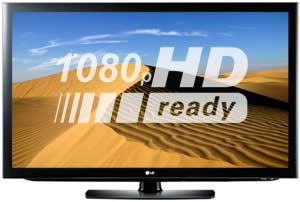 LG 42LD450 Full HD TV
A Big Screen TV that Won't Break the Bank
March saw the launch of the LG 42LD450 Full HD 1080p LCD TV with built-in freeview. This keenly priced 42 inch set has admirable features and enough connections for playback of your favourite pictures and videos. It is the ideal choice for anyone looking for a standard flat screen LCD television for everyday viewing.
With all the furore of TVs with wireless capabilities and internet options plus 3DTVs it's refreshing to take a look at what else is on offer for 2010. LG has their fair share of the latest high end models and no doubt will be wowing the market with more ultra slim LED TVs. But today we have our eye on the new LG 42LD450.
Freeview
Buying a TV with freeview gives you subscription free access to over 40 freeview channels and 24 digital radio channels without the need of a satellite dish. All LG TVs and LG DVD recorders come with integrated Digital Freeview. The electronic programme guide (EPG) shows detailed onscreen information about what's on over the next 8 days.
Full HD provides 1920 x 1080p picture resolution for a bright picture with rich vibrant hues and natural colour tones.The 42LD450 also features a clever Picture Wizard option which helps you find the optimum brightness, contrast and sharpness. The easy set up process takes you through a range of pre-programmed test signals to get the best picture.
LG 42LD450 Key features
Full HD 1080p picture quality
Dynamic Contrast Ratio: 60,000:1
Picture Wizard
Clear Voice II
Speakers: 1 way 2 Speakers (10w + 10W)
Energy Saving Recommended
Built-in Freeview
AV Mode: Cinema, Sport, Game
2 x HDMI,
USB 2.0 (DivX HD, MP3, Jpeg play)
Colour: Black
If your budget is limited and you are looking to buy a larger screen the best advice would be to forget about the gimmicky features and go for a set that delivers on performance. The simplest TVs offer you a big screen at a cheap price.