LG 3D LED Flat Screen TVs
As the 3D revolution gets well and truly underway you can look forward to the industry's finest put on display. LG has announced their first string of releases to include TVs that use active shutter 3D glasses.
Full LED 3D Infinia TV with Freeview HD, Netcast and 400Hz TruMotion
The Infinia LX9900 is the Rolls Royce of the collection offering big screen sizes of 47 and 55 inches. Features include 400Hz picture processing, 960 LED lights (55in) and 864 LED lights (47), Full HD resolution and Freeview HD.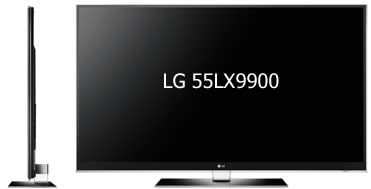 When it comes to connectivity these are no slouches with 4 HDMIs, Bluetooth, USB input, wireless AV link, Netcast for accessing You Tube, Accu weather and Picasa.
Coming May 2010
This year is all about 3D, wireless connectivity, LED backlighting and local dimming plus flat screens that seem to get thinner by the minute. LG's line up is a show case of pure innovation and the best is yet to come with the promise of OLED TVs. For now though it's the exciting world of 3D that's grabbing all the headlines.
LG is very much part of the 3DTV journey and will be releasing both passive 3DTVS which are used with polarized glasses and active 3DTVs with shutter glasses. New models will have their trademark Borderless Design developed even further. High end models will have very slim frames as well as slimmer bezels.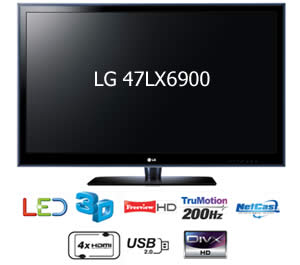 LED 3DTV with Freeview HD, Netcast and 200Hz TruMotion
The LX6900 LED series offers TrueMotion 200Hz technology along with Full HD and Active 3DTV. Freeview HD, 4 HDMIs, USB, Netcast and Wireless AV link. 42 and 47 inch screen sizes available
Newer models will benefit from improved internet content available from Netcast. Some of the services include Vudu, YouTube and Netflix. Skype is also to be added enabling you to call up friends and family. The camera will be available to buy separately.
LG Infinia LE9500 LED TV 400Hz

The LG Infinia LE9500 LED TV series was a major show case of the LG display at CES 2010. Features include an ultra slim design coupled with 3D capabilities.
The Live Borderless Design features 400HZ technology, wireless AV link so you can transmit video and audio wirelessly from a box to your TV and Full LED backlight with local dimming.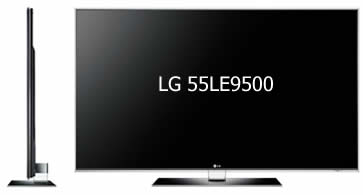 Two sizes will be available a 47 and 55 inch.
In addition to stunning picture wizardry this has impressive audio. Clear Voice II enhances the sound and the AV Mode II allows custom settings to be applied depending on the content being displayed such as sports, moves and video games.
LG Infinia LE8500 LED TV 200Hz

The LG Infinia LE8500 LED series is a step down with a 200 Hz processing system instead of the 400Hz. LE8500 will be available in 42, 47 and 55 inches.
42LE8500
47LE8500
55LE8500
The launch of LG's Infinia range including their Ultra slim TVs at 6.9mm deep bodes well for the Korean giant. With 3D televisions dominating the scene this year the likes of Samsung, Philips and Sony will be joining LG in the release of a wealth stunning TV products.
We are already familiar with the Sony BRAVIA and Panasonic VIERA brand now we can look forward to LGs sub-brand INFINIA range and all the wonders it has to offer.