Samsung LE40C750 40 Inch Full HD Freeview HD 3D LCD TV
It didn't take us long to spot some cracking deals at A J Electronics. It seems now is the perfect time to snap up a TV bargain with superb 2009 models on sale at discount prices and best prices on new 3DTVs too like the Samsung LE40C750 40" Freeview HD 3DTV.
Samsung LE40C750 3D LCD TV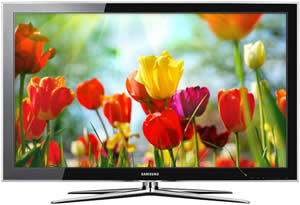 more info
Samsung LE40C750 40" Freeview HD 3DTV
Today's best price for this fantastic 40 inch TV stands at £919 with free delivery at A J Electronics. Part of Samsung's series 7 the new 3D-ready models benefit from a number of improvements including visual and audio quality and its internet@TV interface.
As well as compatibility with 3D the LE40C750 sports a stylish chassis that is home to an array of future proof features. Its fantastic combination of networking and online functions plus a Freeview HD tuner all for well under £1000 is going to draw the crowds and is sure to be another Best Buy for the Samsung corner. The LE40C750 LCD is not as slim as the UE40C7000 Samsung first 3D LED TV but then it is about £700 cheaper.
LE40C750 Key Features
Sky 3D HDTV Ready
Freeview HD Tuner
1920 x 1080 Resolution
200Hz Motion Plus
2D-to-3D Conversion
PVR Ready (External Storage)
Wi-Fi Ready (Dongle Required)
Internet@TV / Samsung Apps Support
4 HDMI(v1.4) Inputs
Best Price TVs & Clearance
When you take a look at A J Electronics website you'll soon discover the latest in electronics including super new 2010 TVs, bargain buys and clearance lines. 
See more AJ Electronic Prices >>
Established since 1983 AJ Electronics is a successful reliable business providing a wide range of digital televisions, plasma, LED and LCD displays plus the brand new 3D TVs.
AJ Electronics Promotion

You'll also find cameras, Hi Fi, personal audio, DVD & Blu-ray, home cinema systems, camcorders and other domestic appliances. All the leading brands such as Sony, Panasonic, Samsung, LG, Toshiba and Apple can be found at very competitive prices.
You can shop and buy top selling LCD and Plasma TVs all delivered free in the UK usually within 1-2 working days. Sort by manufacturer or price and get the specifications on each model to help find the right TV for you.
From a modest 22 inch DVD combi TV in Samsung's 2010 line up; you have the LE22B470 at only £230. Then there's a popular 32 inch LCD with freeview: the LG 32LH2000 at £284. Finally there is the mighty 50 inch LG 50PK790 Plasma Infinia with Freeview HD at just £879.00.