Samsung LE40C650 100Hz Motion Plus Internet LCD TV
When it comes to buying a good looking set you can rely on Samsung to be ahead in the style stakes. Their series 6 model LE40C650 40 inch LCD offers an elegant design, latest multi-media and online functionality plus a first class picture performance. By veering away from LED lighting and sticking with their successfully augmented LCD technology means cheaper prices.
Samsung LE40C650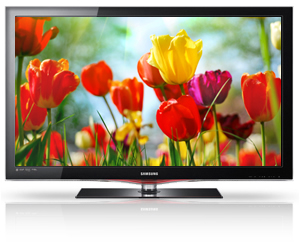 View More Samsung LCD TV Offers
LE40C650 Deal of the Day at Pixmania
Good choice of stores are selling Samsung's 2010 models and today's best price for the LE40C650  is £599. If you want to save more money use the discount code on offer on the Pixmania landing page and get this C650 model for only £585. Here you can also buy special packs including fixed wall mounts, gold plated connectors, TV stands and HDMI cables.
TVs at Amazon are competitively priced too and here you'll find free delivery on this item plus plenty of positive customer reviews. Reviews of the LE40C650 40" commented on its impressive depth and smooth movement, excellent features and media playback.
Sports viewing in particular was seen to benefit from the ultra smooth picture delivered from the Motion Plus setting while gamers appreciated the Game Mode function. So with movie buffs and gamers sorted it leaves the brands latest in digital media playback to woo the rest of the crowd.
Crystal TV Design
This attractive LCD TV packs an array of features into its slim dimensions. The HyperReal Engine produces dazzling detailed images with vibrant colours and 100Hz processing delivers smooth fast moving action. The new Ultra clear panel used on Samsung's full HD TVs also reduces reflection and increases contrast for a better picture.
Key Features of the Samsung LE40C650
Crystal TV Design
Full HD 1080p
Ultra Clear Panel
Freeview & Freeview HD
Internet@TV
HyperReal engine
100Hz Motion Plus Processing
SRS Theatre Sound, Dolby Digital Plus
4 HDMIs, USB 2.0
CI Slot
Energy Savings Features
Smart Networking Keeps you Connected
Plentiful inputs keeps everyone well connected with 4 HDMIs and a pair of USBs but the high light has to be its media playback. Using Allshare (powered by DLNA) enables transfer of videos, music and photos wirelessly from a compatible PC. The USB port also allows you to connect directly to devices and display photos and video on the big screen. It can even be connected with multiple PCs.
Improved Internet@TV
Another exciting feature is Samsung's improved Internet@TV with new apps for 2010 such as LoveFilm and twitter. The diverse range of available content means there's something for all the family. Simply connect to the internet via Ethernet cable or the Samsung wireless LAN adaptor (available separately).
Models in the C650 Range
Samsung 32 inch LE32C650
Samsung 37 inch LE37C650
Samsung 40 inch LE40C650
Samsung 46 inch LE46C650
Samsung 55 inch LE55C650
Samsung 60 inch LE60C650