Bargain Buy Samsung 32" Full HD LCD Group Winner
A 5 star review of the Samsung LE-32B550 and Best Buy choice from What Plasma & LCD gives you an idea that this is not any ordinary 32 inch LCD. When put to the test against other high spec models this Samsung stunner was said to have come out head and shoulders above the rest.
Samsung LE-32B550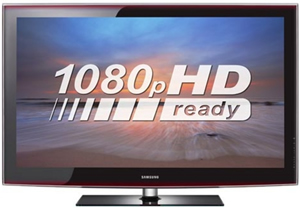 See more Samsung LCD TVs
28 Five Star Customer reviews on amazon.co.uk
"HATS OFF TO SAMSUNG" – Amazon customer review – March 2010
"Excellent product. Other reviews ring true" – Jan 2010
32 inch TVs are holding their ground as the most popular size for the home and is the starting point for experiencing HD movies and HD programmes at their best. The Korean giant seems to do no wrong as shown with Samsung's successful LED story and the iconic B7000 and B8000 series.
The LE-32B550 may not have as many features as their higher end siblings but Samsung know how to put a budget winner together with ease. Forget about LED and internet connection for a moment and take in the elegant Crystal design, chic finish and glass necked swivel stand.
Behind this stylish framework is a wealth of features: Full HD, 4 HDMIs, USB socket for playing MP3 music and JPG photos. Picture performance is way above what you'd expect from a 32 inch" with such a cheap price tag. Prices may be on the up in the flatscreen market but not in the Samsung camp.
Samsung LE-32B550 Key Features
Full HDTV 1080p
Series 5 32 inch LCD
Platinum Black Crystal Design
High Contrast
24p Cinema Vision
Wide Colour Enhancer 2
Anynet+
DNIe
Down Firing Speakers
4 x HDMI, 1 x USB, PC Input
It has the deepest blacks care of a black level booster, flesh tone enhancement and pristine whites for a punchy picture topped by impressive audio thanks to down-firing speakers. These give a deeper and clearer sound for a complete viewing experience.
The combination of design, performance and connectivity makes this a worthy contender for best 32 inch LCD. Its bigger brothers the 37 inch LE37B550 and 40 inch LE40B550 both scored equally as well with glowing reviews again bargain TVs.