Older models no Longer available
Sony KDL-40LX903 40 inch 3D LED TV
With the arrival of 3D there has never been a better time to go large. You can now bring that extra dimension into your home for less than a £1000. There's some cracking deals on offer at the moment with half price 3D movie bundle offers and reduced prices in the January sales. We spotted M&S TV deals on a range of Sony 3DTVs including the KDL-40LX903 40 inch LED 3D TV.
---
---
Sony KDL-40LX903 40 inch 3D LED TV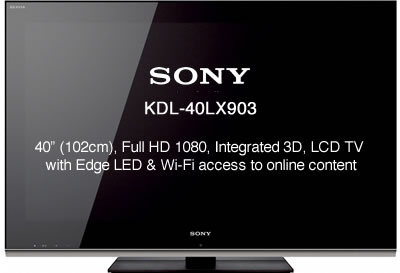 The phenomenal development of 3D is the most exciting thing happening in TV right now so it's not surprising that we're seeing all the big names head to head. Since the re-emergence of 3D in 2010 manufacturers have been developing ways to bring the best third dimensional experience into our homes.
Although not first up with a 3D model Sony have since caught up well with sleek performers like the KDL-40LX903 40 inch 3D LED TV. Reviews of the KDL-40LX903 40 inch 3DTV highlighted its picture performance, stylish build and superb TV tuners. HD pictures proved a success with lustrous detailed images full of vibrancy and punch.
TVs with built-in Freeview HD was also big news last year making subscription free hi-def available to all. The LX903 series sports this as well as a feast of other high end features. It uses edge arrayed LEDs, plays music and videos via USB plus offers online catch-up services such as BBC iPlayer, Demand Five and YouTube.
Key Features Sony KDL40LX903
Integrated Full HD 3DTV
Intelligent Presense Sensor
Wi-Fi access
Built-in Freeview HD Tuner
Edge LED Backlit
Minimalist Flush Screen
New Monolithic Design
Advanced Shutter 3D Glasses Supplied
A Supersize 60 inch 3DTV the Sony KDL-60LX903
If you're tempted to go bigger the Sony KDL-60LX903 is a high tech powerhouse that's the largest sleekest Bravia TV to date. Housing all the same excellent features as the 40"; Sony's brand new flagship 60 inch 3D model is big and beautiful. However it does comes with a mighty price tag but if you can accommodate it and got cash to spare it looks a great TV.