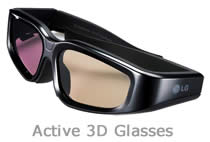 LG Infinia 47LX9900 and 55LX9900 3D TV
It didn't take long for LG to play catch up in the 3D race and unleash their new products for 2010. May is the month that we can look forward to a full suite of televisions with super slim cabinets, 3D capability, broadband and wireless connectivity.
So as the LX9900 prepares to wow the crowd lets take a a closer look under the bonnet.
The LX9900 3D Infinia television is available in 47 and 55 inch screen sizes and is the world's first Full LED powered 3D ready TV which uses Active 3D technology. Both panels feature a wealth of features including Freeview HD, NetCast web browsing system as well as TrueMotion 400Hz digital scanning.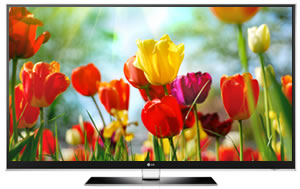 LG Infinia LX9900
The 47LX9900 and 55LX9900 offer Full HD resolution and four HDMI connectors. The use of high-tech LED backlighting brings home the true value of next generation TVs and their breathtaking pictures.
The promise of brighter, richer colours with infinite deeper blacks will delight the senses as will LG's new Infinia design. The single layer design is a real eye catcher with its ultra slim depth and narrow frame.
Buying a 3D Ready TV brings the 3D experience into your front room in fabulous high definition. With limited 3D content out at the moment you can rest assured when the deluge of 3D programmes arrives you'll already be up and running.
2 Pairs of Active 3D Glasses Included with the LX9900 series
3DTV Ready TVs mean these sets are come fully geared to deliver a three dimensional effect to the viewer. This effect is created by wearing glasses, two pairs of Active 3D Glasses are included with the LX9900 series. These are shuttering type that deliver full HD 3D picture quality which are being used with Samsung, Sony, Panasonic and Philip 3DTVs.
It's worth bearing in mind when comparing 3DTV prices that a pair of 3D specs go for around £100 a pair. The 47LX9900 and 55LX9900 come with two pairs each which makes a price difference of £200 per TV before you start. No doubt there will be bundle package deals aplenty as more 3DTVs roll out and competition heats up among retailers.
Best of all, both of the LG 3DTVs perform equally well on the two-dimensional front and don't lose any of their appeal when you switch from HD to standard definition. Furthermore, the LX9900 will support Wi-Fi capabilities bringing with it Netcast technology to pick up popular applications from YouTube, Picasa and AccuWeather.
Features of the LX9900 at a Glance
47 and 55 inch screen sizes
1920 x 1080p
Full LED
Magic Motion Remote Control
3DTV (Active)
400HZ
TrueMotion
Freeview HD
Clear Voice II
ECO Flower
Netcast
4 HDMI
Wireless AV Link, Bluetooth, DLNA
USB 2.0 (DivX HD, MP3, Jpeg play)
New LG 3D Blu-ray Player
To compliment the newly launched 3DTV LG is the BX580 Blu-ray deck. The 3D Blu-ray Player spec includes 3D playback, HDMI version 1.4, Wi-Fi technology, DLNA, Netcast,and USB for playing music, movies and videos.
The LG BX580 is fully compatible with 3D Blu-ray, normal Blu-ray as well as DVDs.