Today's TVs are crammed full of innovative features and cool gadgets that can be quite mind-blowing when on the look out for a new TV. You can be easily tempted into buying one with bells and whistles when really all you want is a smashing picture and an easy to use remote.
There are however a few functions that do make TV viewing a more pleasurable experience. Here are our top TV features offered from newly launched LCD, Plasma and LED TVs from big named manufacturers including Samsung, Sony, LG and Panasonic:
Useful TV Functions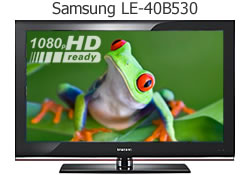 Freeview HD
Picture Enhancing 100Hz Processing
Extra Wide Viewing Angle
Upscaling
LED Backlighting
Power Saving Technology
Voice Boosting Audio
Full HD Resolution
High Contrast Levels
Multi Media Connectors
Freesat HD
There are many highly rated HDTVs with amazing audio and visual qualities that may not have all the fancy features but are a best buy. TVs such as these will eventually be reduced in price as more fully loaded TVs enter the market, making them an even better choice.
The Samsung LE40B530 may not include all the latest techno gadgets or even LED backlight but is now great value at under £500 for a 40 inch Full HD LCD.
Internet TVs with widgets may sound a must have but the technology for web browsing is really in its early days yet. Another tempting feature is the latest ultra slim TVs but as not everyone wall mounts their TV the panels thickness shouldn't pose a problem when placed on a corner TV unit or stand.
A shiny gloss black finish is another selling point that doesn't add anything to the picture quality and can be more of a distraction. It's also worth mentioning TVs with shiny coats need lots of cleaning from sticky finger marks too!
Buying a TV is a personal choice however and what suits one person doesn't necessarily suit another. The main thing to consider is how important and how much you are prepared to pay for the array of functions offered with new televisions.
Once the 2010 LCD, Plasma and LED TV models are released last year's top quality TV models can be found at heavily discounted prices. The Summer Sales, Bank Holidays including Easter and Christmas sales are great times to grab a bargain but it may be prudent to shop around for the best price.
TV comparison charts can save you pounds and shopping on the internet gives you a chance to compare prices from your favourite stores. Check out reviews and specs on model numbers, discover the next generation TVs plus find who's selling the best budget TVs all at a click of a mouse.