Buy Now Pay Later Offers Best TV Prices and TV Sales
Older models no Longer available
Flexible Payment Terms
A number of online catalogues carry a good range of flat screen TVs from the top electrical manufacturers. You can find big savings and flexible buy now pay later terms on top name brands including Samsung, LG, Panasonic and Sharp. It's not often you find so many competitive prices and TV deals all in one place but we found the following stores are giving you just that.
And it's not only reserved for Christmas, the January sales, Easter or Bank Holidays, you can now grab a bargain throughout the year.
Flexible payment terms means you can spread the cost and pay in installments so you can enjoy this year's new TVs, 3D releases and latest LED TVs today. Pre-ordering is available which guarantees you'll be in first just in time for the World Cup.
Leading manufacturers Samsung, Sony, Panasonic, Toshiba and LG plus Sharp and Phillips will be churning out super sized screens and TVs that are cheaper and better than ever.
Find how you can enjoy a new TV today and not pay until next year with plenty of other interest free payment options too.
Low weekly prices, free delivery and returns, earn rewards and buy now pay later schemes are too good to be true best of all, some TV prices have been slashed by half.
---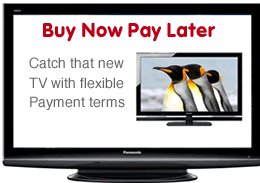 We came across the stunning Panasonic Viera 37in full-HD Freeview LCD TV TX-L37U10B with a saving of £250 making the sale price only £599.
Features include: V real Pro 3 engine, 24p playback, XV Colour, VIERA Link and V-audio Surround. You can also read reviews on this 5 star model.
You can even pre-order the latest models like the new Sony 32 inch KDL-32EX603.
This is a superb Full HDTV with Edge LED backlighting and built-in Freeview HD tuner that offers access to a range of free-to-view high-definition channels.
Also look out for reduced prices across a range of cracking televisions including up to half price off flat panel TVs. Such bargains sell out fast but if you are lucky you can buy a fab Samsung 50in full HD Freeview plasma and save £300.
The PS50B551 features 100Hz Motion for a brilliant flicker free picture and is a great price today at just £799.
Bank holiday offers and mid season sales will save you plenty of money on electricals and TVs. Plus you can buy now and pay in 2011.
Interest free payments make it easier to finance your new television so you can enjoy latest releases from top manufacturers like Panasonic, Samsung, LG and Sony.
The Panasonic Viera 42in HD Ready Freeview Plasma TV TX-P42C10B has 100 Hz technology, 24p Playback, Game mode, X.V. Colour and some great reviews from happy customers all for under £500 in the sale.
Fantastic savings on televisions are available. Half price TVs, interest free payments and Buy Now Pay Next Year options are too good too miss.
The Sony Bravia KDL46V5500 46in full HD Freeview LCD TV is on offer at the best price of only £649.
There is limited stock on half price televisions especially when they are popular Sony models like this one with 4 HDMI sockets, Bravia Engine 3, Intelligent picture, Live colour and 24p true cinema.
Take a look at a new online department store and discover the latest in technology and some smashing TV deals. The newest TVs ready to pre-order and knock down prices on older models. The release of the 2010 models has left plenty of bargain TVs up for grabs.
Today we spotted an impressive feature packed 42 inch Full HD Toshiba set reduced by £200. This high-definition stunner has plenty to shout about with its superb upscaling of standard def images to near high definition.
This is thanks to Toshiba's unique Resolution+ feature bringing home a striking picture at an amazing price.
The 42in full HD Freeview LCD TV 42AV635D features: full power-down mode, resolution: 1920 x 1080, contrast ratio of 15,000:1, PC input, 4 HDMI and 2 SCART sockets plus Active Vision II technology.
If you are more interested in the most searched for products rather than the TV sales you can check out what TVs are popular and read customer's TV reviews.
You can also find out information on the types of televisions available now and help in choosing from the many LCD, LED and Plasma TVs on sale including HD Ready and Full HD models.
Shopping online is a pleasurable experience with a choice of filters narrowing your search selections and TV categories showing LCD TVs, Plasmas, TV combis etc separately. You'll find low priced brands as well as top names such as Sony, LG, Samsung, Panasonic and Toshiba.
You'll love this bright and exiting site packed with best sellers and the most popular televisions from all the leading brands.
Find out what's hot this week and get the low down on the newest releases for 2010. Placing orders now for televisions due out in April or May is the best option.
You will be first in line with the super shiny models set to dazzle us this year.
With TVs and electrical products greatly reduced you can save up to a massive 60% off selected items. If that's not enough, you can take advantage of their payment options. The buy now pay next year scheme gives you a year to pay, interest free.
Samsung TV sales spotted today are a 50in 100Hz HD Ready Freeview Plasma TV P50B430 with SRS Trusurround HD sound effect system and Wide Colour Enhancer reduced by £250.
New TVs
The highlights of the year ahead is sure to be the long awaited 3D televisions, super slim flatscreens with extra connectivity and wireless internet TVs. LED will continue to be a main player over LCD screens while OLED TVs will be waiting in the wings
Best of all there will be TVs offering non subscription hi-def with Freeview HD and Freesat HD TVs on sale saving you even more money.