TV/Blu-ray Player Package Deals
TV Blu-ray Player and Home Cinema Bundles
Having found your ideal TV you may be interested in saving more money by looking at these great TV package deals before completing your purchase. Today leading manufacturers and electrical stores are fighting it out to give the best prices and offers on the latest LED, Plasma, LCD and 3D TVs. You'll find Panasonic, Sony, LG and Samsung showcasing their latest Blu-ray plus TV packs in the press and on TV. Check out the following TV Bundles and Blu-ray offers available online and see what you can save.
Bundle Deals & TVs with Built-in Blu-ray Player
---
3D Blu-ray Players
To fully appreciate 3D in all its glory you will need a 3D Blu-ray player, some content to watch and of course a pair of 3D glasses. Buying all these separately can work out expensive so many stores offer extra value with their own exclusive bundle deals and add-ons.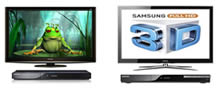 Although big news right now, 3D TVs and the bundle deals that come with it are not going to be for everyone. So for those that prefer to stay in the two-dimensional world there's
plenty of savings to be made on flat-panel LCD TVs, super slim LED models and big Plasma screens.
Affordable small size 19 and 22 inches LED TVs with Blu-ray player for under £300 are ideal for a bedroom or a smaller living room. The 32 inch TV remains one of the most popular TV sizes around and some models even include an integrated Blu-ray player.
Feature-filled large TVs including plasma with free Blu-ray and package deals on 40, 42, 46, 47, 50, 55 and 60 inch sizes can also be found.
It's not only the manufactures that give you a good deal Amazon, John Lewis, Best Buy UK, Electrical Discount UK, Marks and Spencer, Dixons, Currys and many more have their own special offer pages and bundle savings worth looking at.